Lenards of Covent Garden Ltd
Fruit and Veg Wholesaler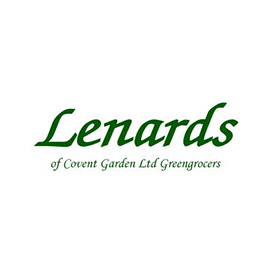 Terry, Theresa and Paul started Lenards of Covent Garden in 2002, a successful business providing the best fruit and veg produce and service around. Paul Schofield has been with us since the beginning and his knowledge of the market and produce is invaluable. We have long lasting relationships with top restaurants and caterers and our customer base is growing all the time.
Our reputation in the supply world coupled with our extensive knowledge and understanding of seasonal produce, quality control and packing and distribution means we can meet the daily requirements of our customers.
The company success is based on years of experience of meeting the chefs needs with the daily produce available. With a long standing team of employees, most of which have been there since the start we will continue to do just that!
What Theresa says 'We at Lenards place a huge emphasis on what our customers need and the continuity of our excellent service. Having and delivering the right produce daily doesn't just happen by chance. Its our teams expert knowledge and dedication that makes this happen!'
Fruit Products
Fruit
Veg
Salads
Herbs
Mushrooms
British
Exotics
Prepared produce
Dairy
Bakery
Frozen foods
Juices
Address

Unit A59, Fruit and Veg Market
London
SW8 5HH

Email

Phone

020 7498 0927

Other phone

020 7622 3717

Website