The autumnal colour thermostat has gone up quite a few degrees at New Covent Garden Flower Market since last month, with even more flowers now available in red, yellow, burgundy and orange hues.
The autumnal colour thermostat has gone up quite a few degrees at New Covent Garden Flower Market since last month, with even more flowers now available in red, yellow, burgundy and orange hues.
And there are still lots of different kinds of hydrangeas, including these gorgeous English ones at Zest, which come in bunches of 25 stems.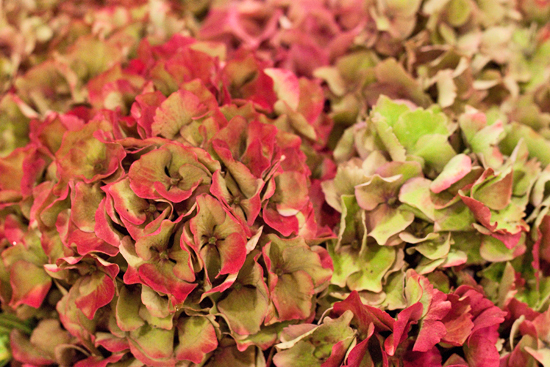 British Flowers
Other British flowers available in October include this wonderful pink-tinged sedum at Pratley.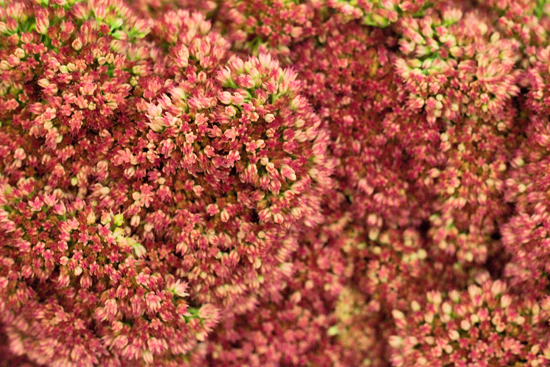 Cornish pink belladonna lilies, with chocolate coloured stems are in plentiful supply.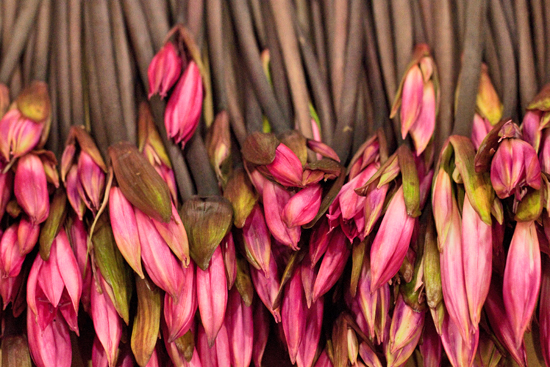 And also hailing from the South West are these intriguing river lilies.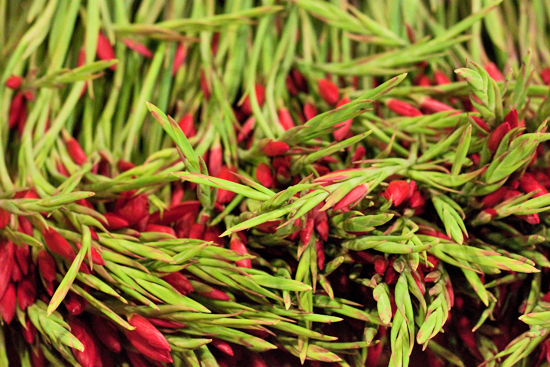 Moving on…now that our sensational summer is starting to become a distant memory, rose hips in lots of different varieties are hitting the Market.
This particular one below at R G French & Sons is called Magical Fantasy.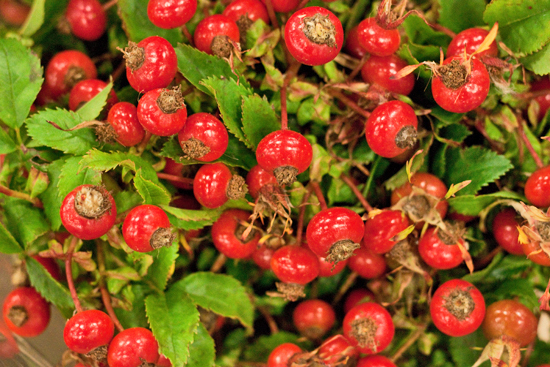 Plant-wise, skimmia has started to come in at Arnott & Mason.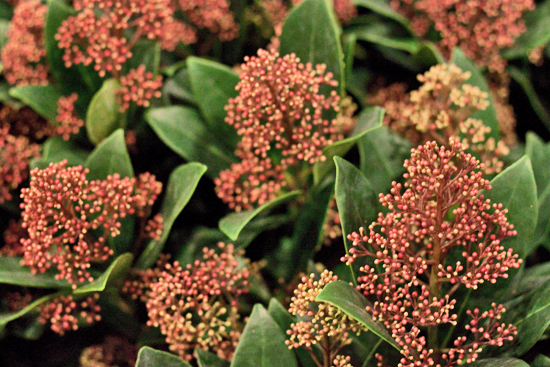 And I don't think I've ever since so many different types of hypericum.

Varieties include Coco Grando with its extra-large berries (top left), Magical Pink Fall (top right), Magical Green Power (bottom left) and Magical Passion (bottom right).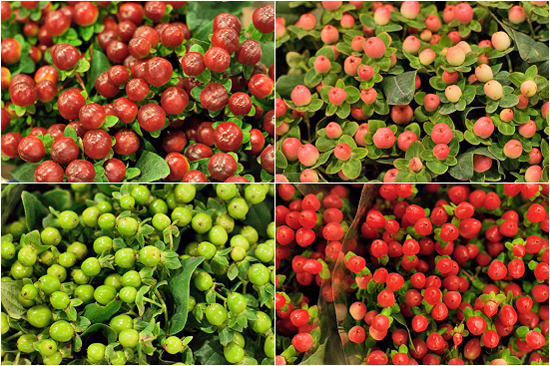 Weekend walks on paths of rustling fallen leaves in the autumn months is something that many of us enjoy…
And you'll find russet foliage has arrived in the form of this red oak at S Robert Allen.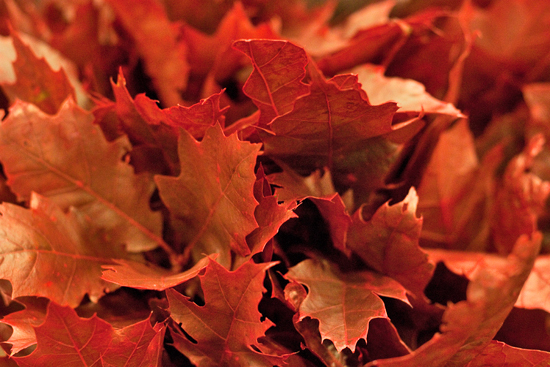 Staying with the fall colour palette is orange Euphorbia fulgens.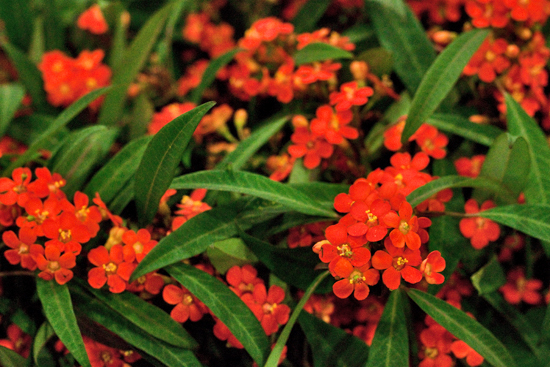 And how fabulous are these Nertera granadensis plants at Arnott & Mason? They come in two different pot sizes.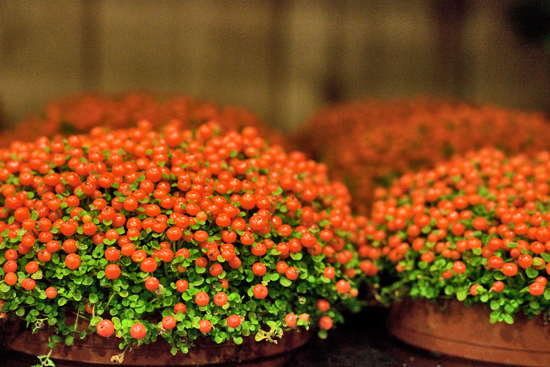 This is a striking variety of long-lasting alstroemeria.  I spotted it at Bloomfield and it's called, very aptly, Flame Orange.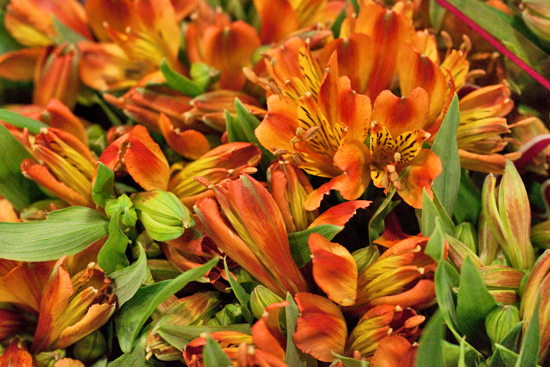 Looking like the autumn equivalent of grape hyacinths are these Kniphofia Alcazar at R G French & Sons, also known as red hot pokers.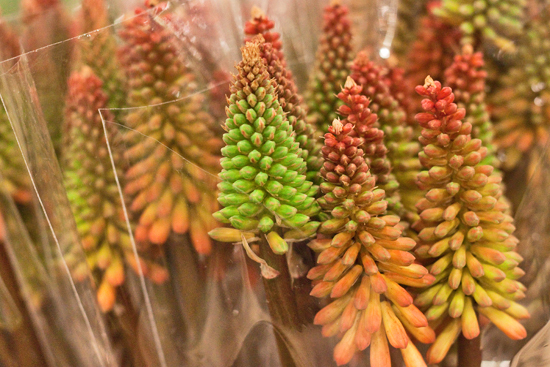 And yes, I thought I was seeing things too when I spotted these ranunculus at E Four!
They aren't the only spring blooms at the Market at the moment though.  Tulips, hyacinths and anemones are also starting to trickle in…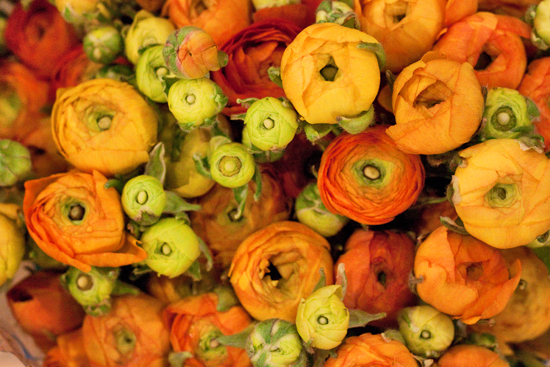 Stems of this dainty Helenium Red King would look perfect in a country garden style hand-tied bouquet.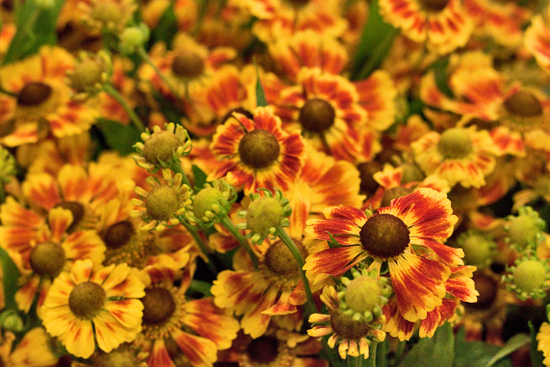 As would this captivating Helenium Kanaria…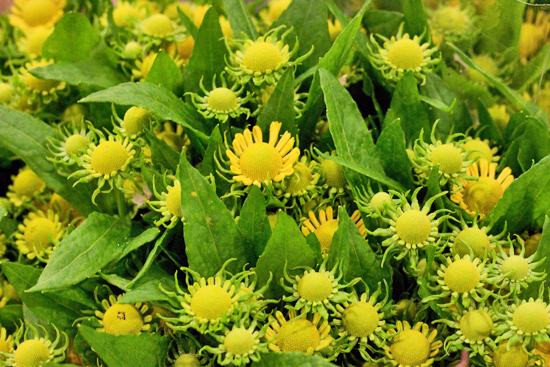 If you're looking for gift ideas, then there are these pepper plants.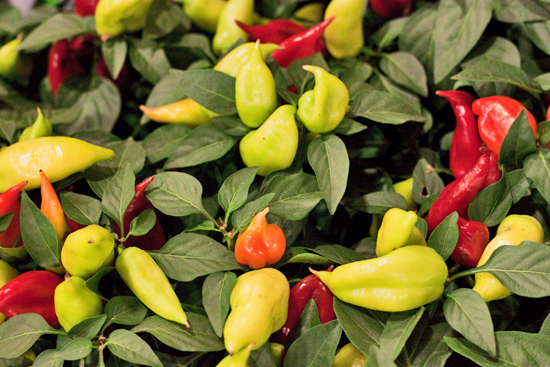 Now, I know it's only October, but it's good to be organised for Christmas, as it can be such a busy time. 
So you'll be pleased to know that Grant at C Best says that their Christmas stock will start to come in this month.
Keep a look-out for it the next time you visit Nine Elms…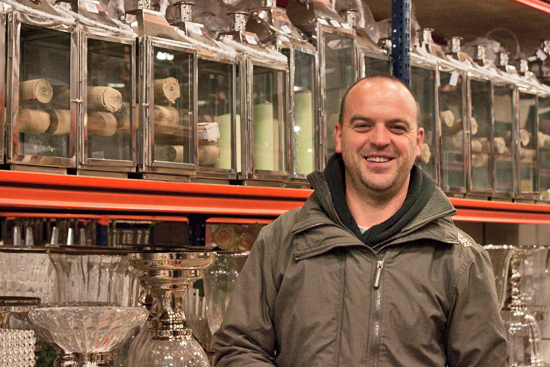 Yet another wonderful rose variety at the Market is La Perla, with petals a delicate shade of pink.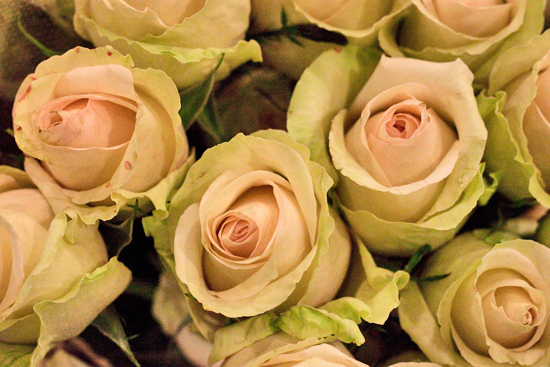 Have you seen these before?  They're agapanthus seed heads and I spotted them at J H Hart Flowers…unusual, aren't they?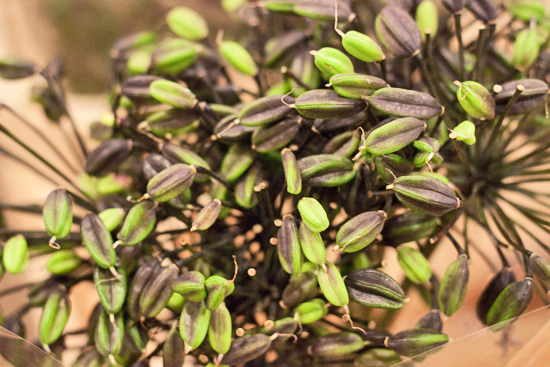 I've tried to capture these exquisite blooms before at the Market, but as they're such a deep, deep burgundy, they're a real challenge to photograph.
They're Chocolate cosmos and they really 'do what they say on the tin' and smell of chocolate.
On their own, in a simple bridal bouquet, they're perfect for a winter wedding.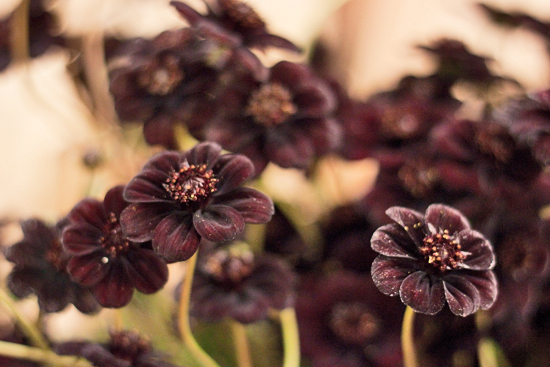 Barry at Porters has red hazel at the moment. 
How long it's available he says is very much dependent on the weather and how quickly the winter arrives.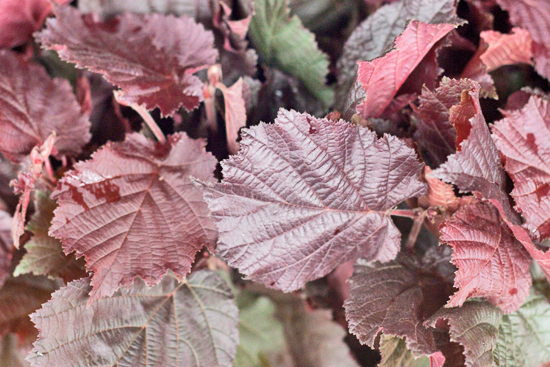 And one of my very favourite foliages which is not only available from Foliage Row outside, but also from some of the traders inside, is cotinus.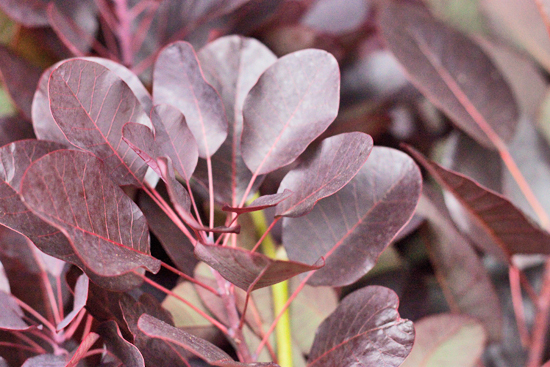 GB Foliage has this magnificent pampas grass, which really would make a statement and add texture to a tall floral design.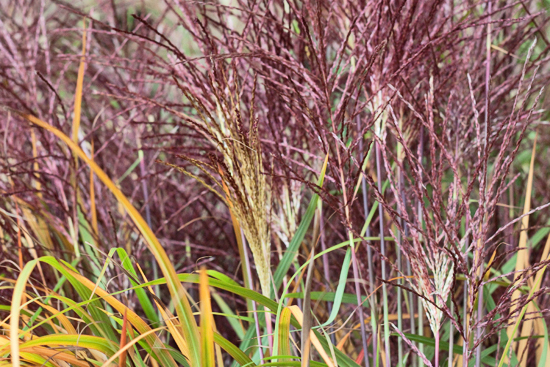 And magnolia is back! Not only in this form below, but also as magnolia bud at GB Foliage.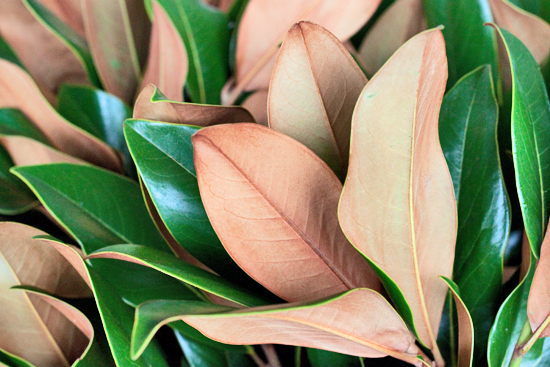 How lovely is this Eucalyptus stewartiana at Porters Foliage?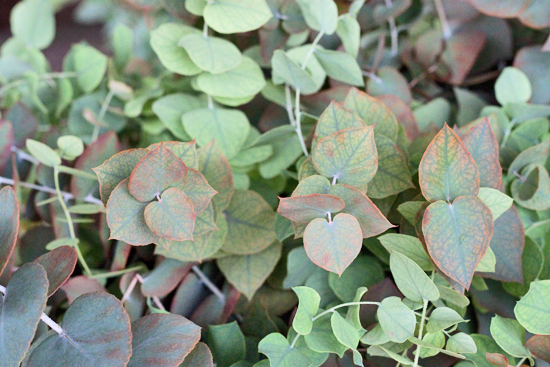 Heavenly, silvery mimosa (Acacia baileyana) is available in abundance from GB Foliage and Porters.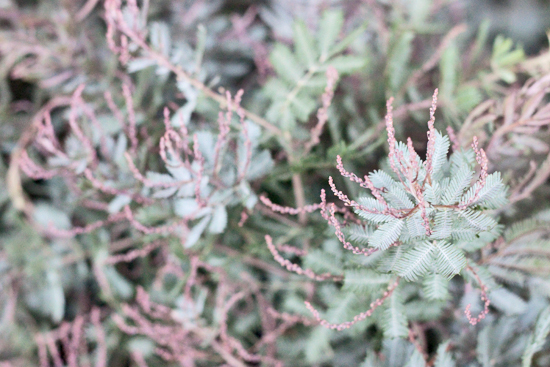 Back inside, there are still lots of lilac, pink and purple blooms available this month such as this spray rose called Purple Symfonie.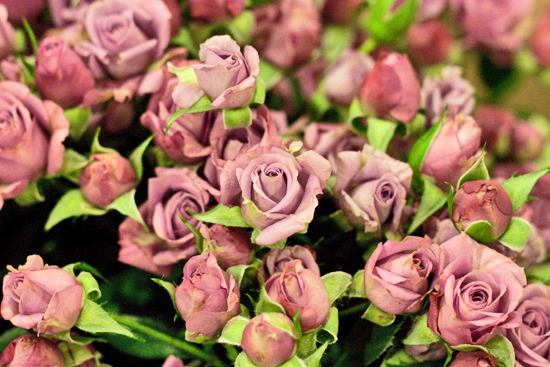 And this gomphrena with a subtle ombre effect at Alagar.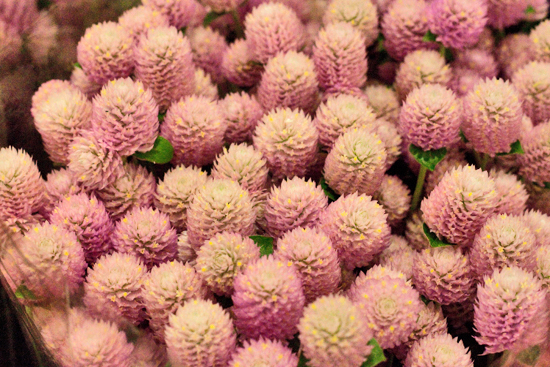 Shelves upon shelves of pink, red, white and bi-coloured cyclamen plants in different sizes are at Arnott & Mason.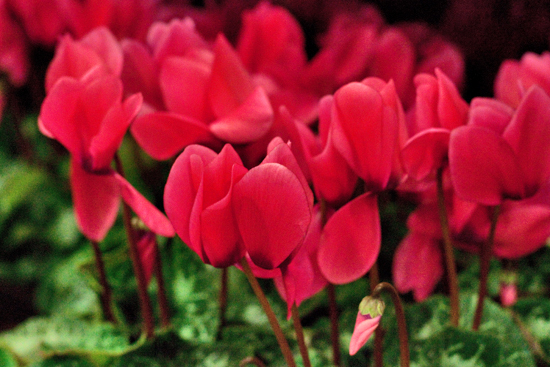 And there's monkshood (Aconitum) at A Goodchild...which you need to take care in handling, due to its poisonous nature!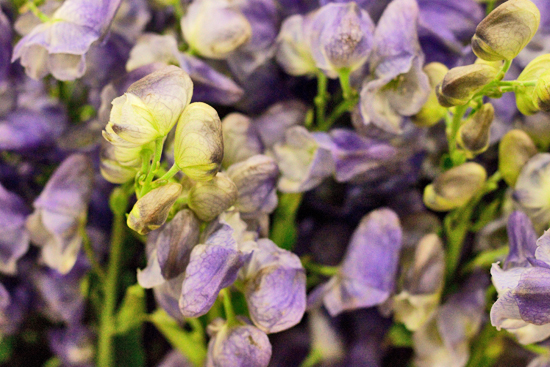 Aren't the bi-coloured leaves on this Brassica Crane Ruby at R G French & Sons fabulous?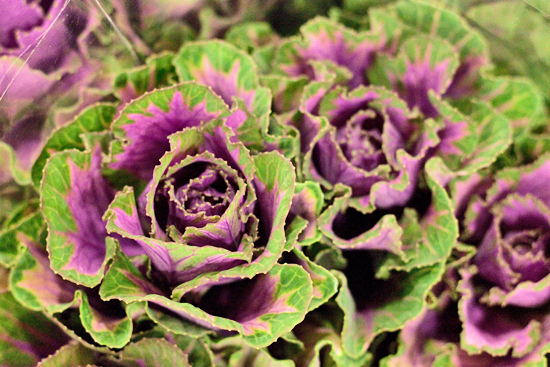 There's even more snowberry available this month. 
And Mike at E Four has both the white (Symphoricarpos  Magical Snow Queen) and pale pink (Symphoricarpos Charming Fantasy) varieties.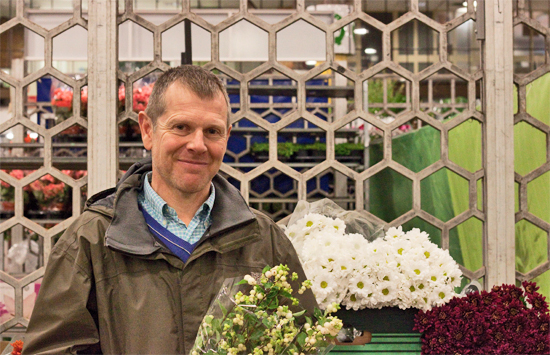 Back to plants, this really is a quirky one. Available at Quality Plants ,  it's called Chlorophytum Bonnie.  It's a spider plant with twisted and curled leaves.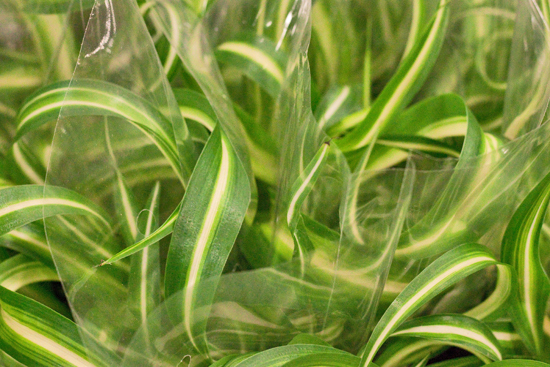 At Arnott & Mason, they have these air plants (Tillandsia) which are very versatile. 
I've seen them on wedding blogs used in bridal bouquets, buttonholes, napkin decorations, heart wreaths and even to decorate cakes!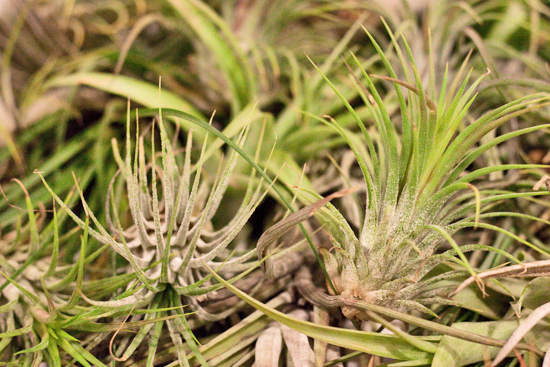 I'll leave you with this little reminder about the festive season, which will be upon us before we know it…!
Donovan Supplies have these gold crackers from Oasis.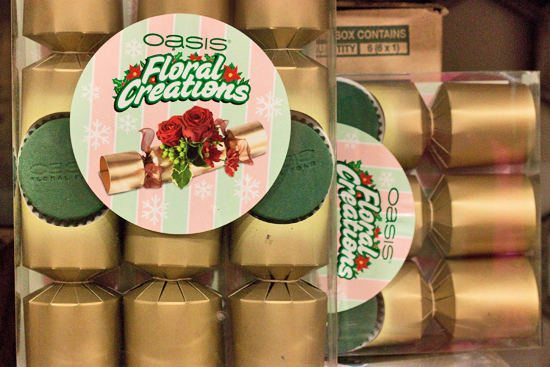 And it's never too early to stock up on silver and gold spray!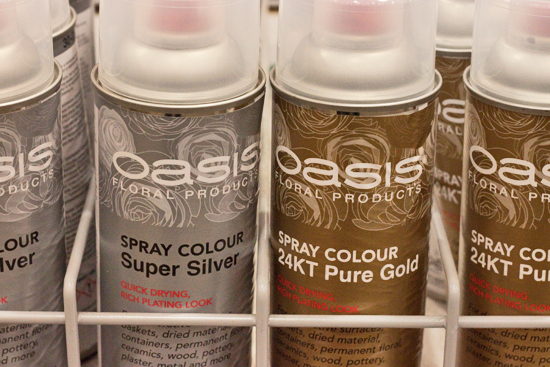 So, I hope you've enjoyed reading this month's report showing what's available in October.
Halloween at the end of the month will be a great reason to use these seasonal blooms and foliage in shop window displays. So, do visit the Market soon to see them for yourself.
If you have any comments or questions about this report, it would be lovely to hear from you. Please simply type in the boxes below…