Cast your clouts! The may – or hawthorn – is blooming at GB Foliage, so unsew yourself from your long-johns; summer's coming…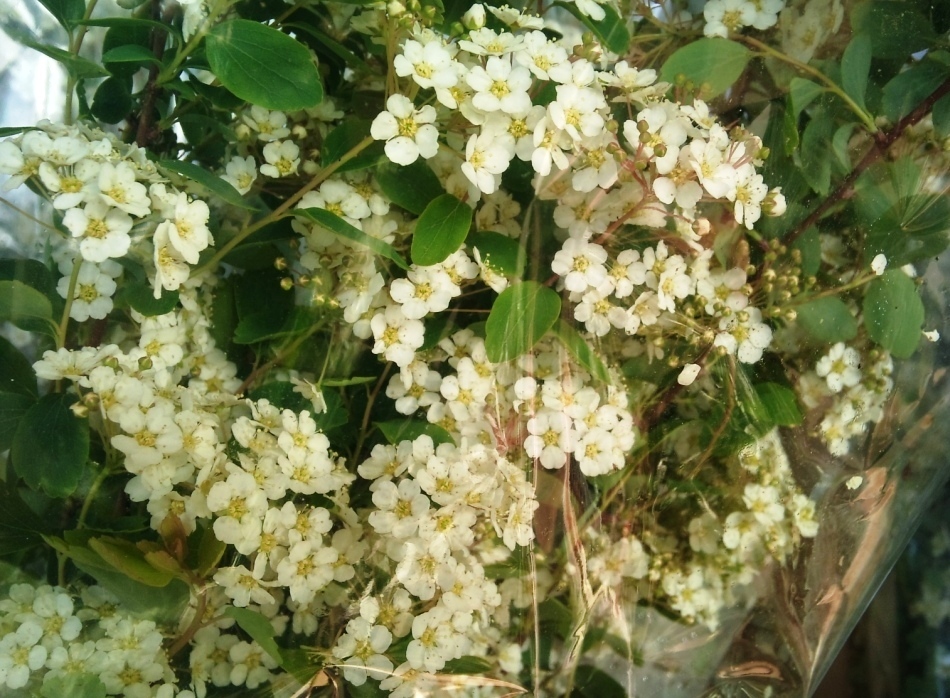 Let's do things completely in reverse this month. Flowers always come first, muscling egotistically to the front. But there are so many gorgeous foliages and fillers in the market, it'd be a crime to relegate them to mere backing singers.

GB is great for British-grown foliage, including chubby hebe, tiny blue gum, and flowering herbs. (Could I say "heeby-jeeby" now, and get it out of my system?) Several stands have herbs – here's mint and French lavender at SR Allen. Perfect for a fragrant nosegay. (Currently in breeders' development to extend its vase life, longstem purple basil. Can't wait!)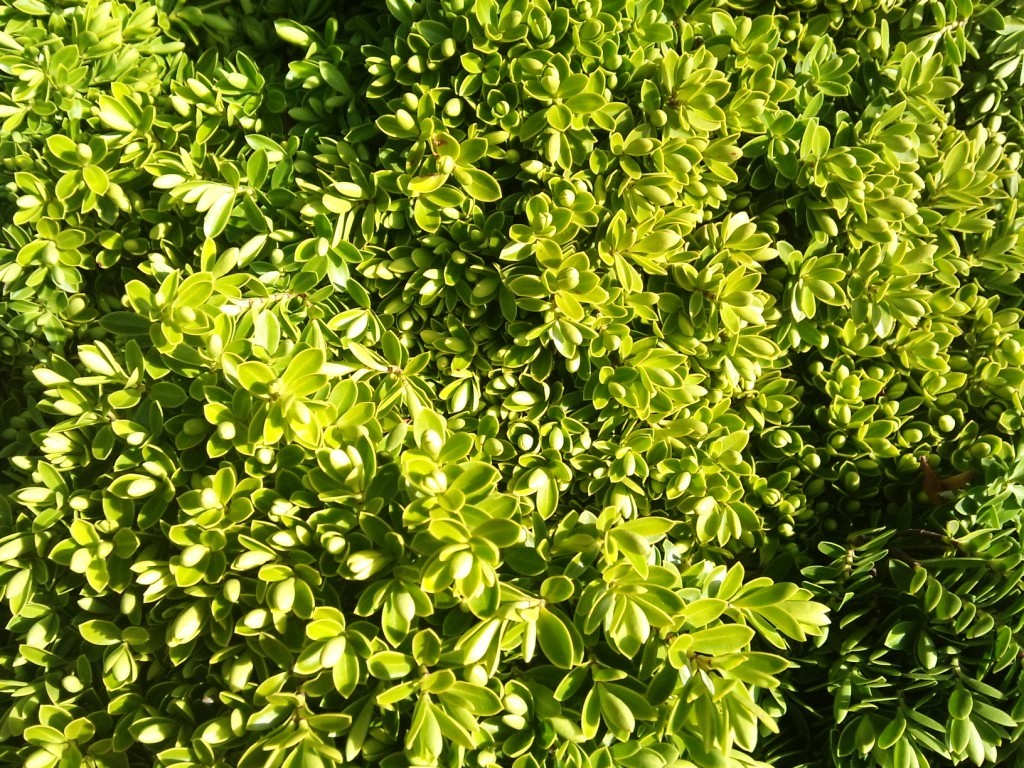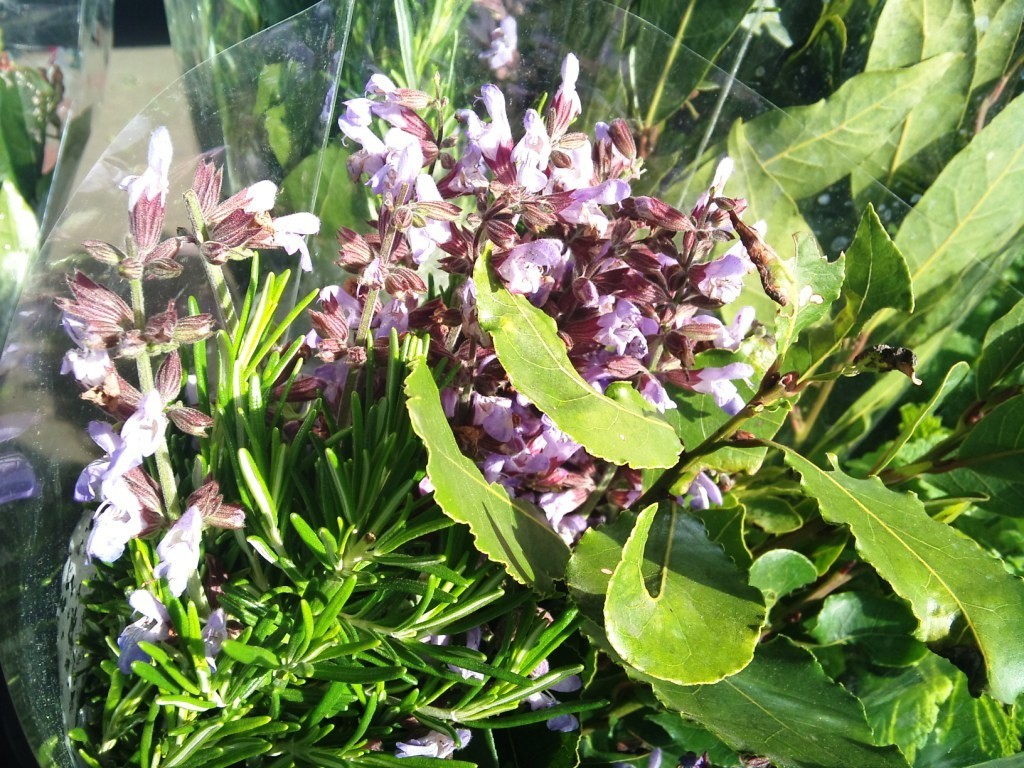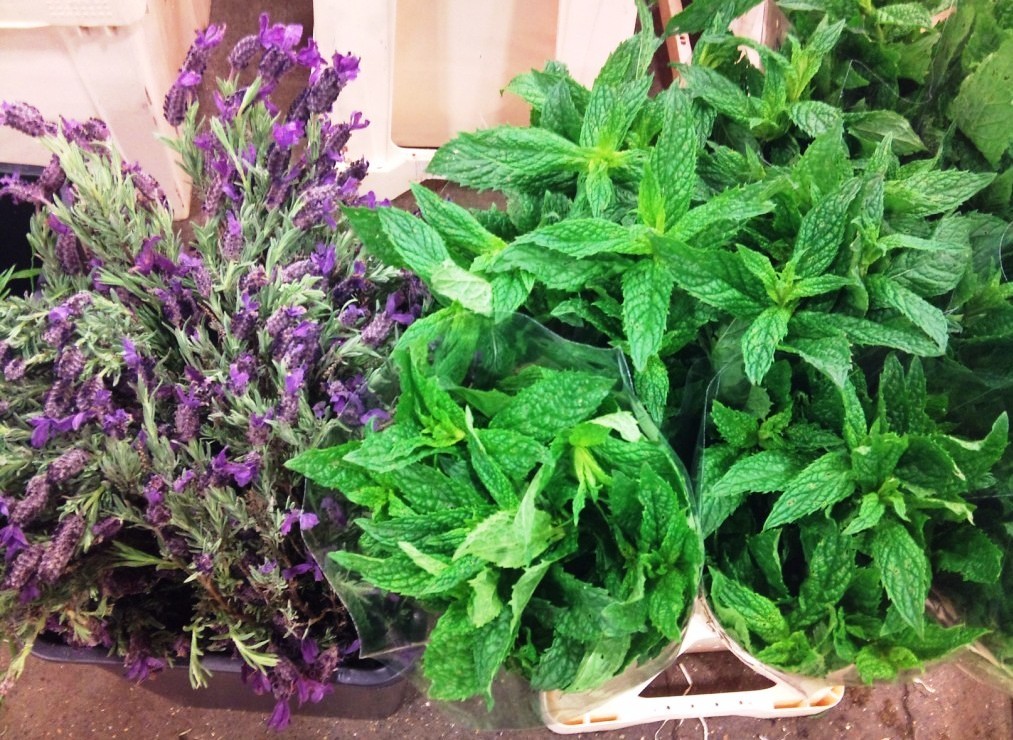 If GB is the born-and-bred Londoner, Porters is the exotic foreigner. Novelty of the month has to be "devil's backbone", Calathea "Network". There's intriguing Antipodean shrubbiness from callistemon, grevillea, genista seedheads, mimosa pods, and claptomeria – a hebe-esque foliage that's new to me.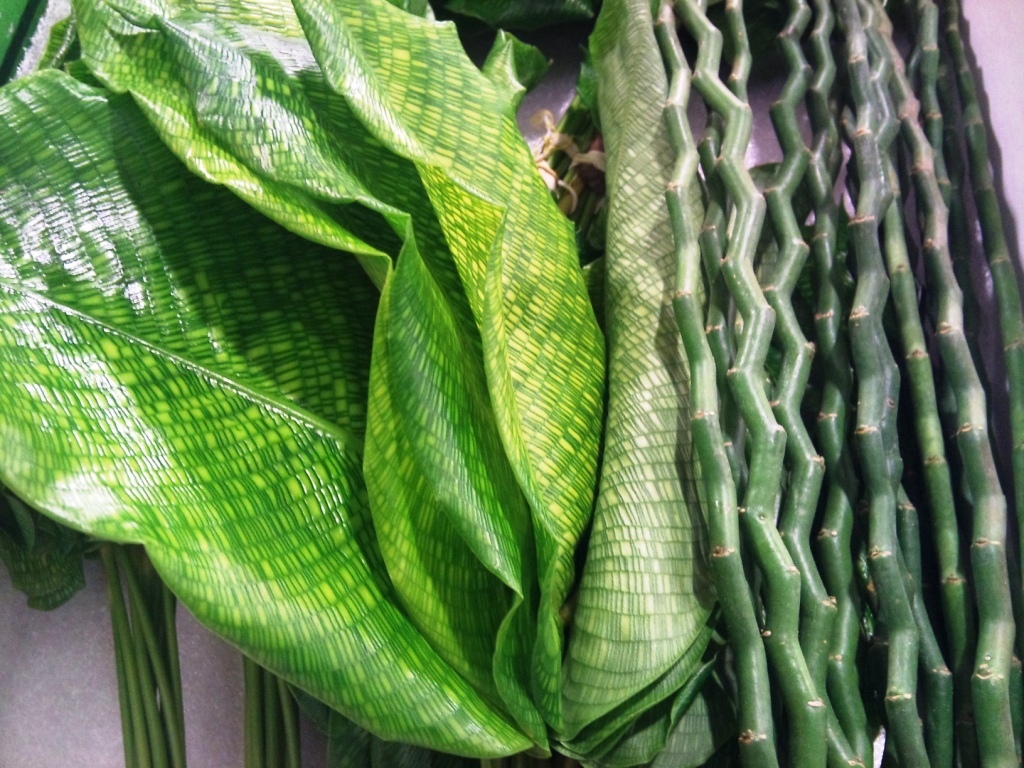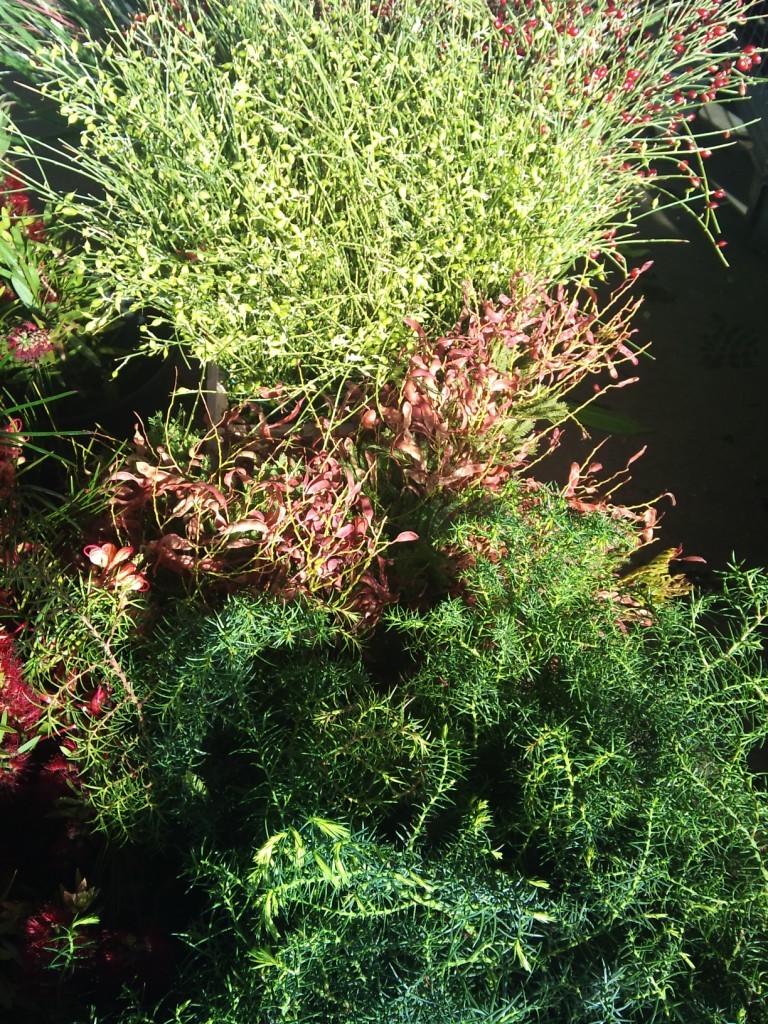 If you ever wondered what a cross between mangrove and eucalyptus would look like (no?), then cordata is that offspring. Later in the season the heart-shaped leaves blush red. "Keeps very well", says Barry "and takes a drink easily, like a wholesaler…"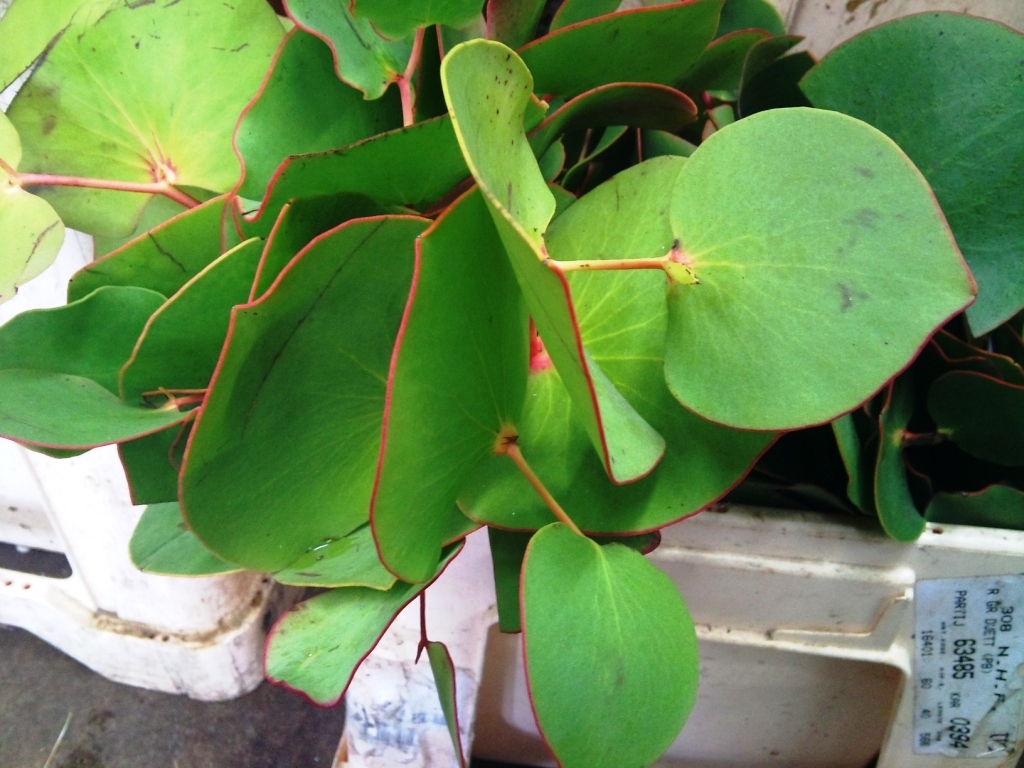 Here's Barry with another novelty, plum viburnum. Not around for long – use it while you can! Could be interesting paired with glowing copper photinia – wonder if my hairdresser could replicate that shade? Porter's have also got cocoa pods in, if you're suffering easter egg withdrawals. Health & Safety dept says, For Ornamental Use only… Don't lick 'em.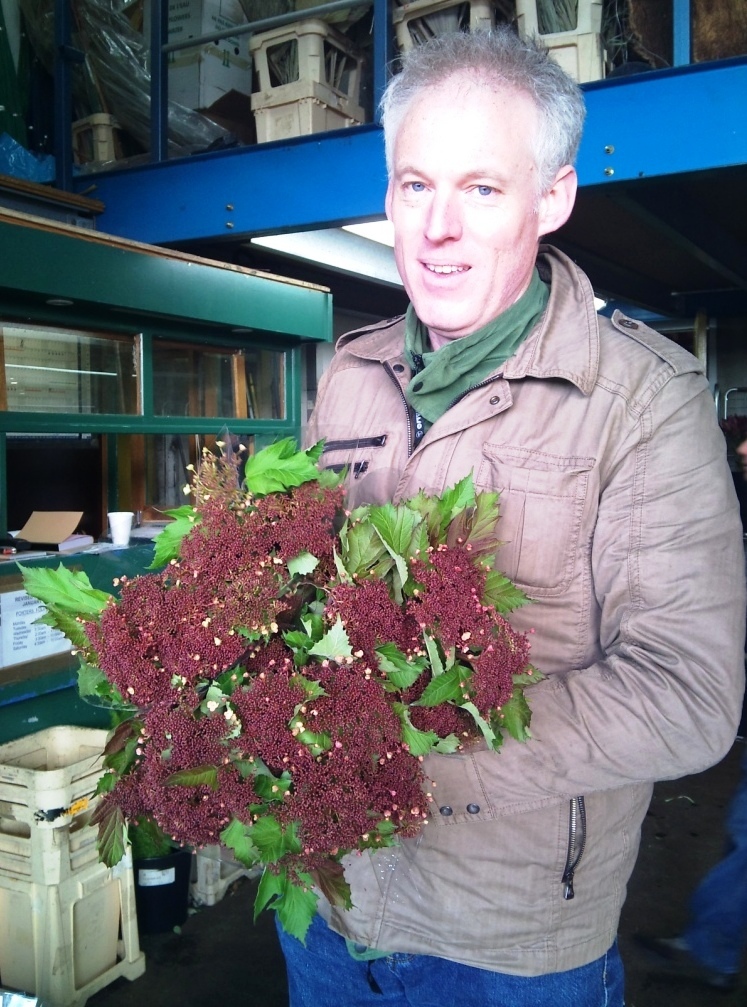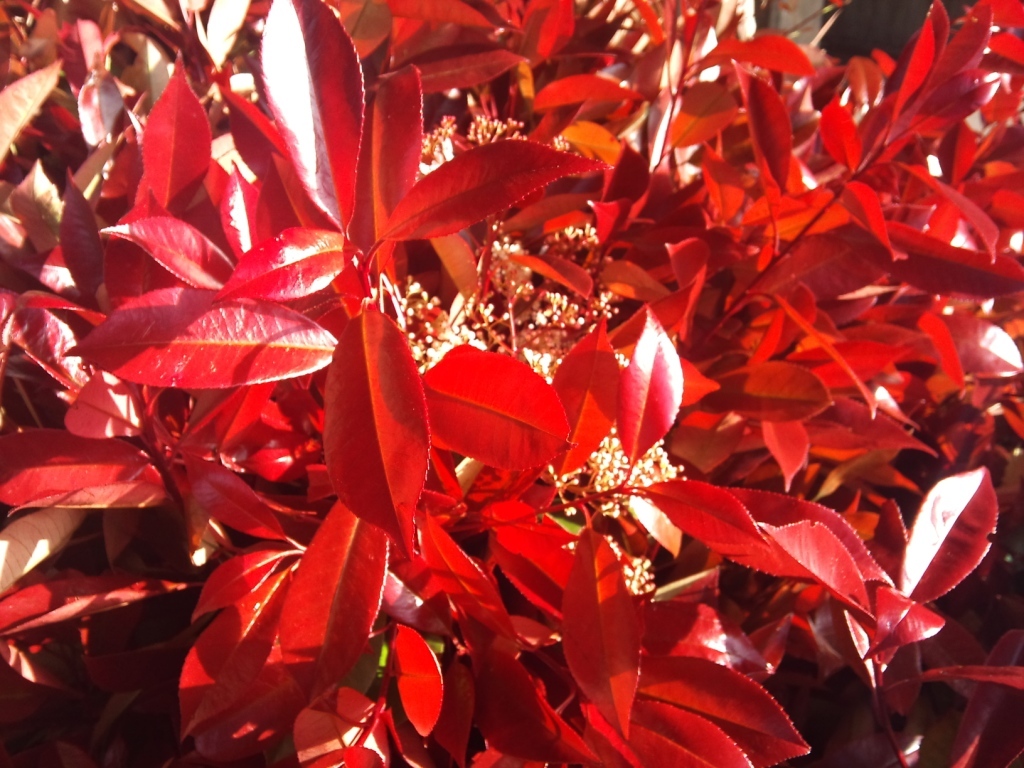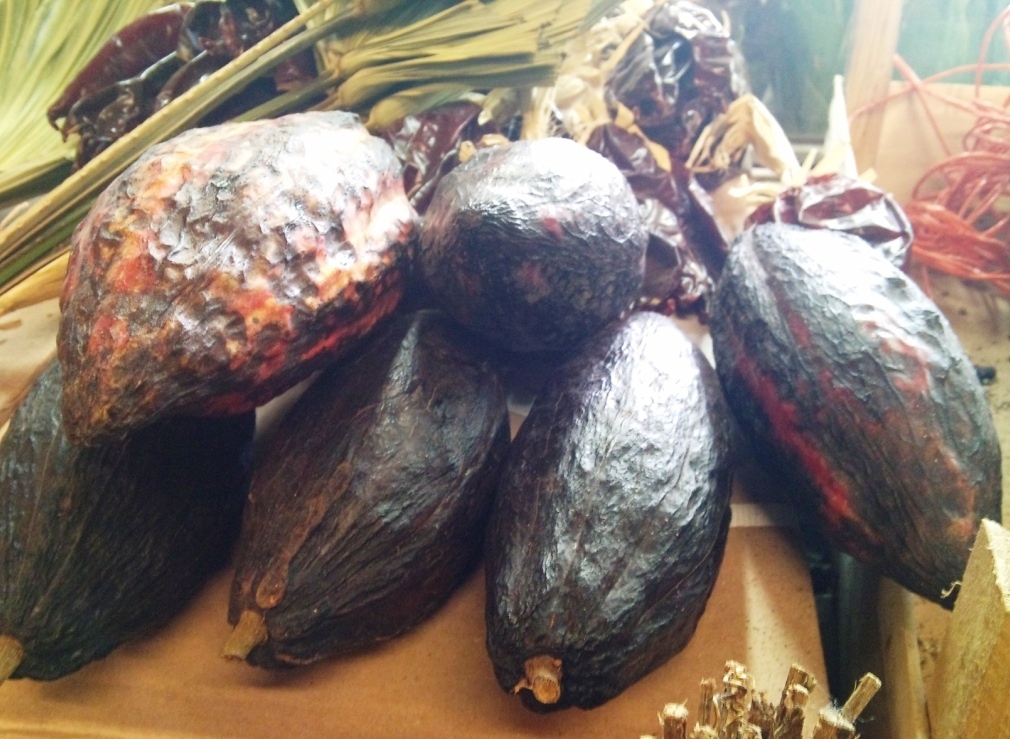 Next door at Arnott & Mason, the lovely Ian demonstrates the size of his standard photinia. It's not something he shows all the ladies.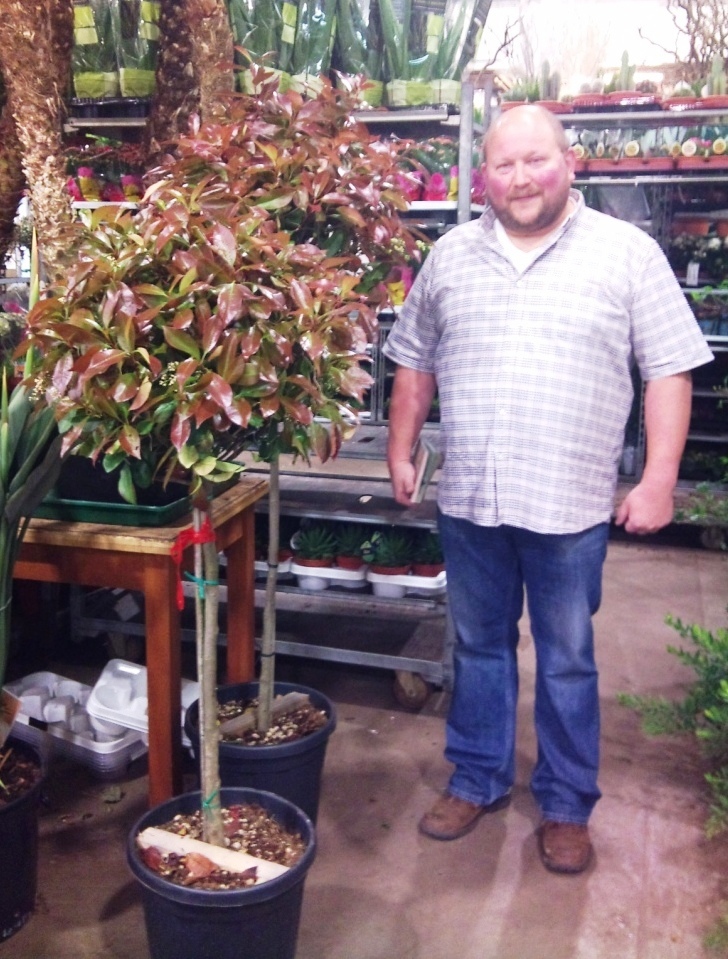 He's got other interesting shrubs too – wisteria on a frame, and something I've never seen before (and nor had Ian), trained olive. I know – very exciting if you're a lover of pleach and espalier. Orchid admirers should hop over the walkway to Quality, where they've got every potted variety, colour and shape.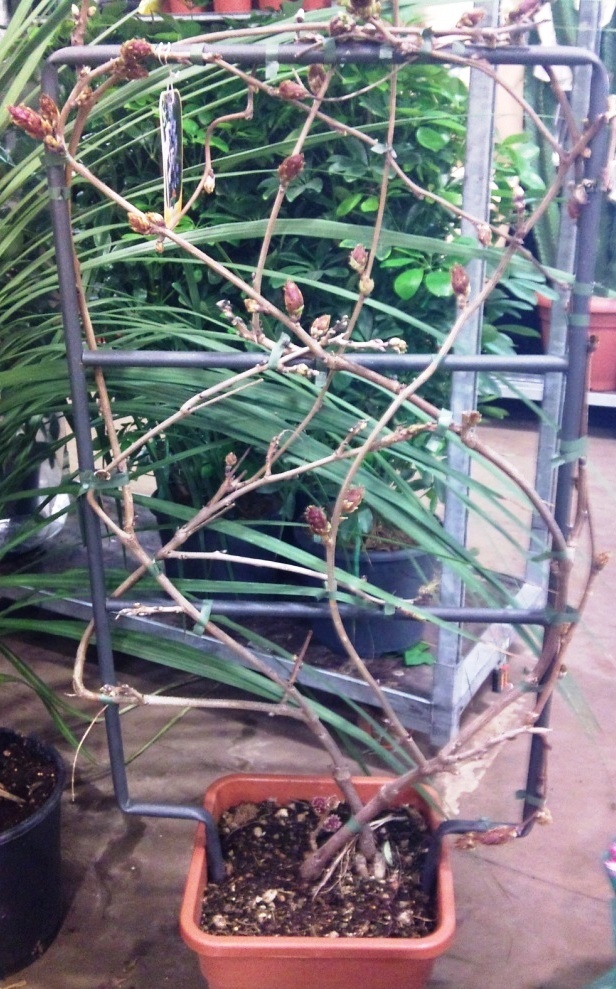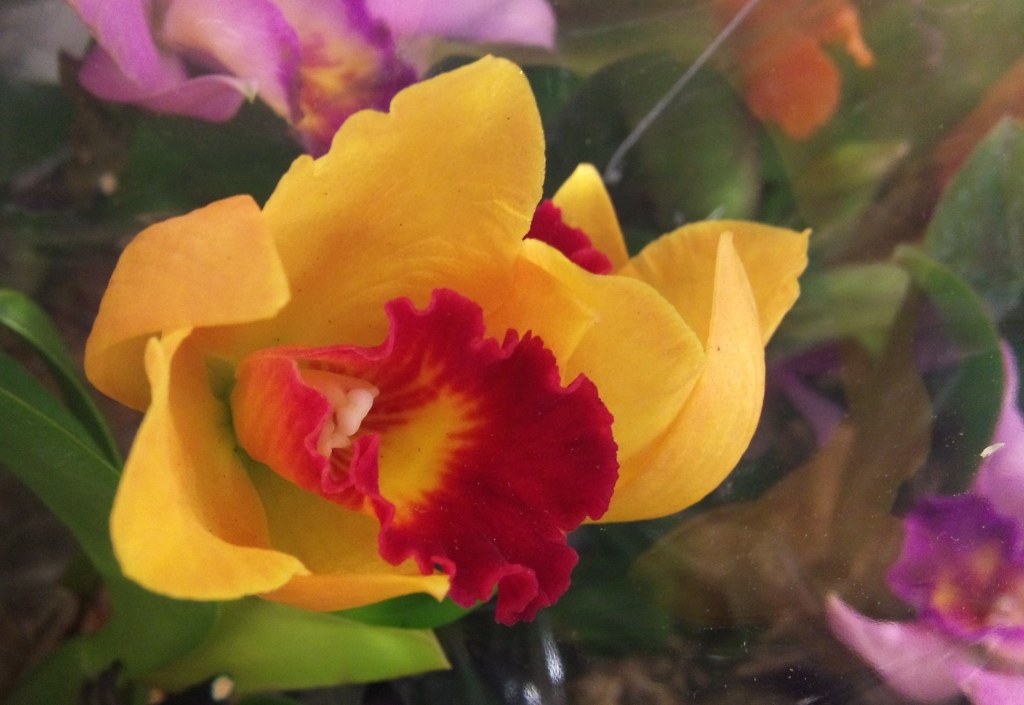 What else can I show you? Oh yes – green and white! It's the most popular combo for English tastes, so it's always useful to have plenty of choice. Guelder rose, of course; kangaroo paw, molucella (with leaves, and without); solomon's seal, ammi, bupleurum, bamboo, hypericum, Shamrock and Kermit chrysanths and eryngium (I like this rustic brown wrapping).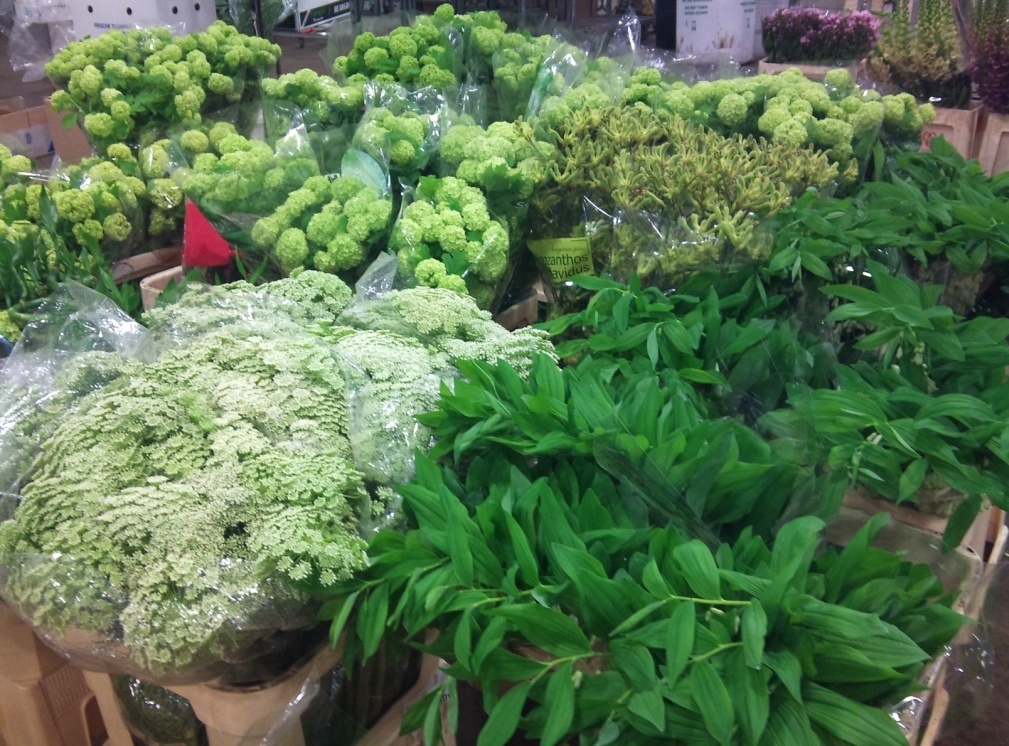 We're deep into bedding season, and I'm not talking pillowslips. From pelargoniums to pansies, there's colour to fill every windowbox and door tub. Get planting!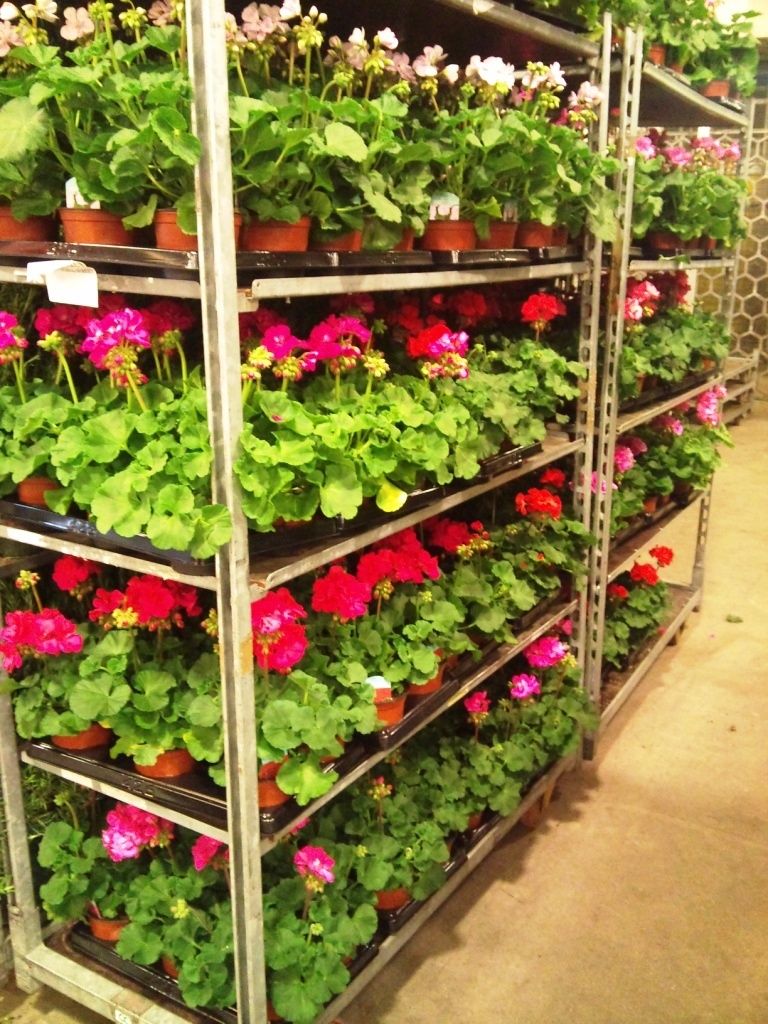 It's National Ornithogalum Week too, with eye-popping orange dubium, white and yellow chincherinchee, and tall black-eyed arabicum everywhere. I remember Teddy, one of the market's old guard, telling me "that dubium lasts for weeks. You'll be sick of it before it dies." He was right.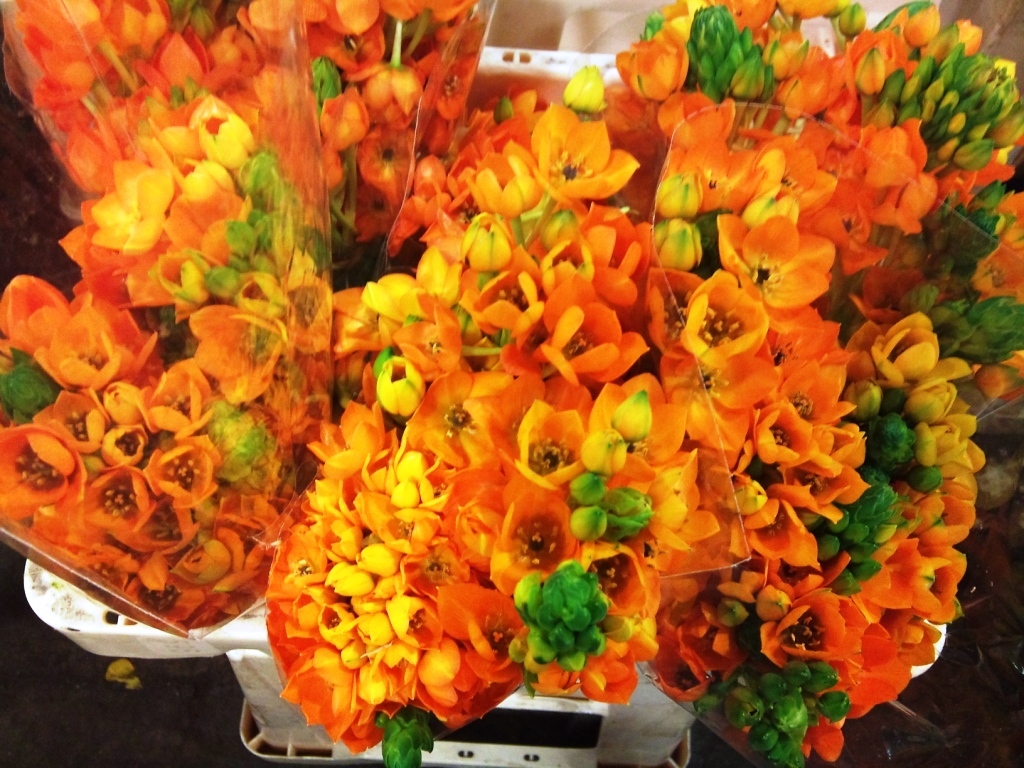 June to April, true blue is in pretty short supply, with eryngium and iris having to work extra hard. Come May, we're spoiled for choice, as SR Allen's colourblocking proves. All kinds of delphiniums for instance; and these yummy cornflowers, campanulas and clematis (oh my).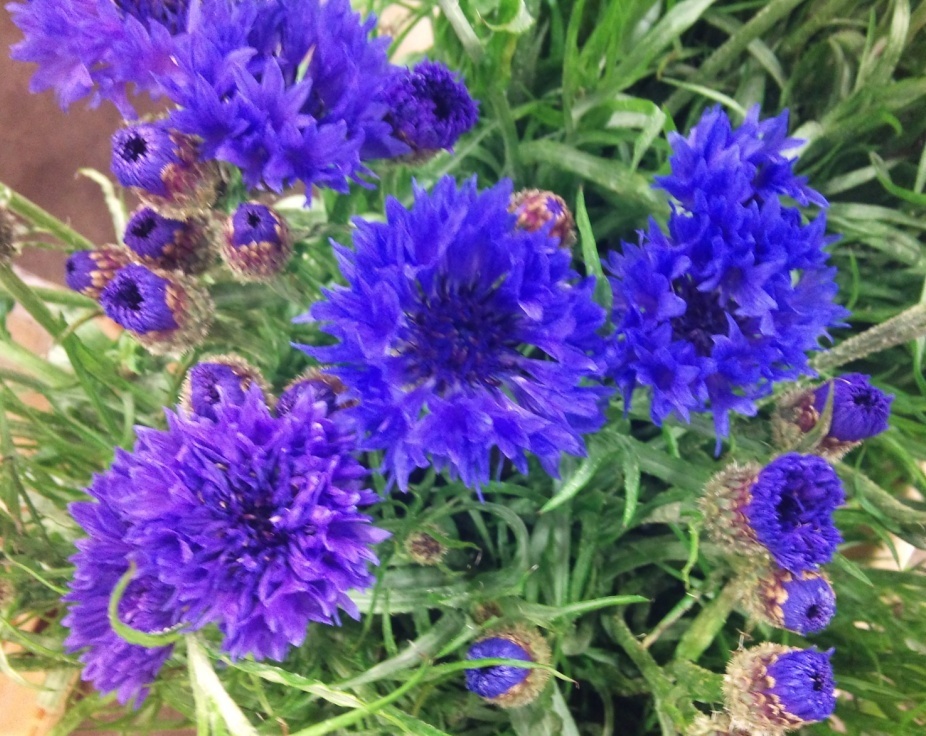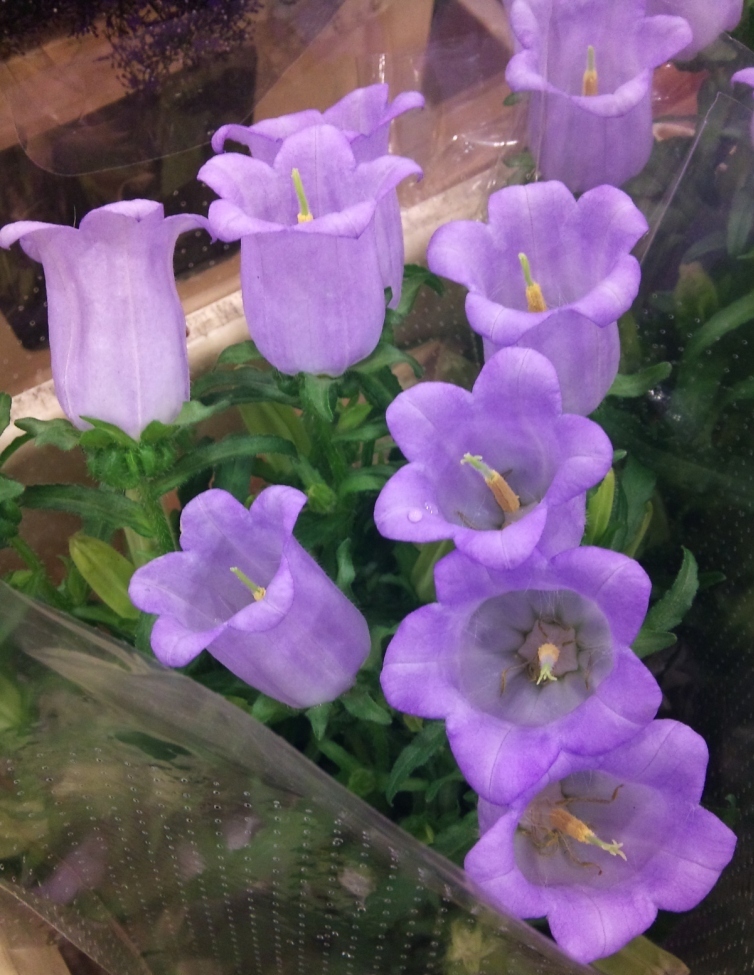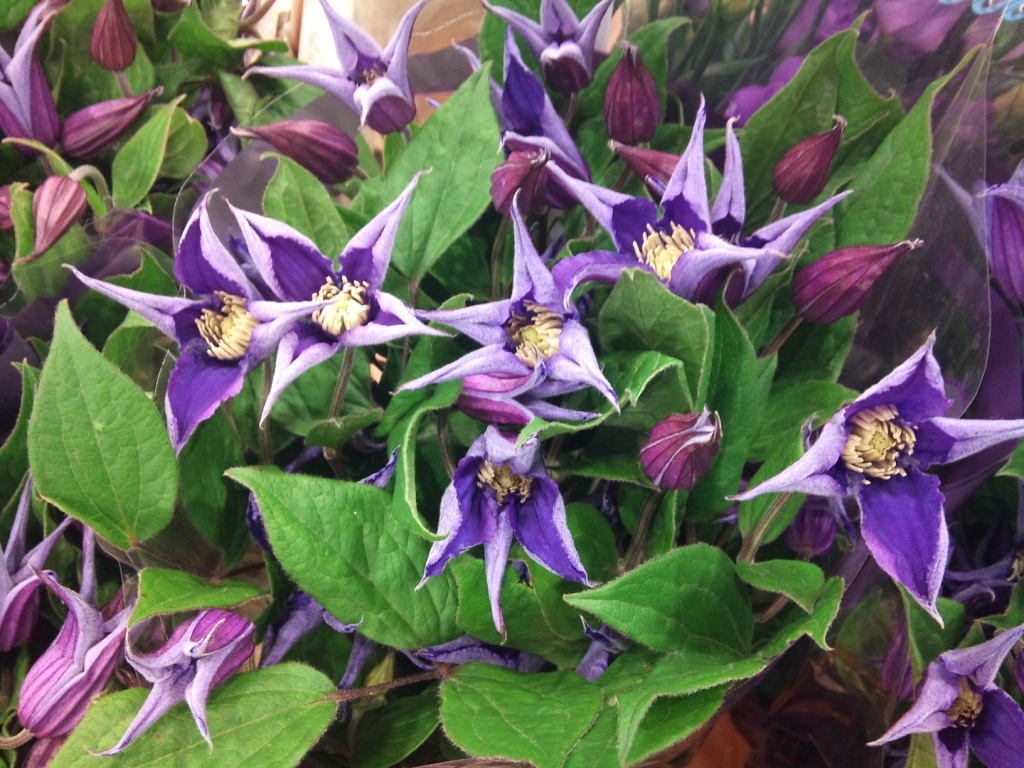 There's new stands sprouting, as well as foliages. Dean partners 15-year market veteran Joe on the spanking-new Waitsonstand, by Pratleys. Dean used to be a football coach, so there's always time for a career change.
Jonathan is settling into EH Hart's new spot nicely; he sends updates to his best customers when interesting things come in. Otherwise his advice is, check out this blog! Here's his tall, handsome Israeli kangaroo paw, "Zilva". Export supply is… unpredictable, let's say; so you'll just have to call in person to pick it up. Say hi from me.