Like that tonguetwisting song about the periodic table, sung to the tune of Modern Major-General: "There's veronica and snapdragon and scabious and allium, celosia campanula astrantia delphinium…" there's so much choice right now, I feel this should just be a list of every flower and foliage you can find at Vauxhall.
But it's June, so there's only one winner. Pride of place on the podium… peonies! If you heart peonies too, there's every shade of pink plum peach and white. I select "Claire de Lune", like rich Jersey cream. Even more creamy, says Bobby at Alagar, is "Prairie Moon". With Dutch, French and English peonies available, how do you tell them apart?, I ask. "The buckets", says Bobby. Ah.
Pipped to second at the tape, alliums. Floating my onion-flowered boat are DG Flower's deep-toned "Purple Sensation"; wonderfully starry schubertii, and nectaroscordum, charming clusters of hanging bells (Bloomfield).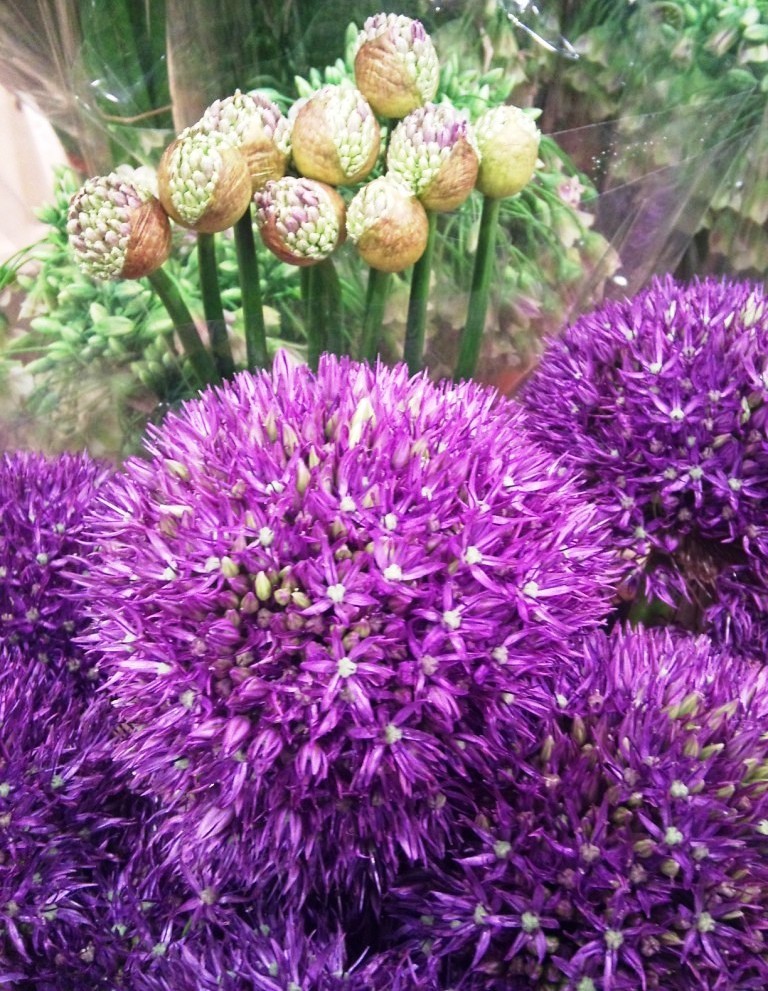 In bronze medal position, delphiniums. A blue sea on every stand – in tribute to neighbours Chelsea FC, maybe? Lots of height choice for bouquets or contracts; and a cute spriggy pale-blue one, smaller than "Blue Bee".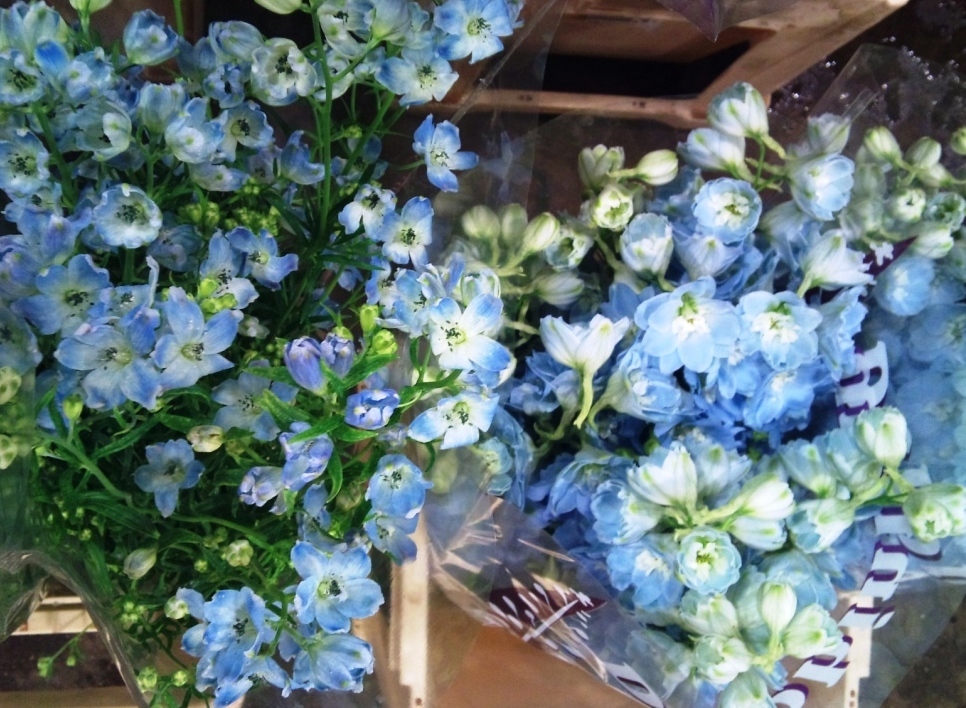 Honourable fourth place goes to celosia. I always feel warmer when I spy those crinkled furry brains. The velvety texture says winter, but the colours scream full-on heatwave.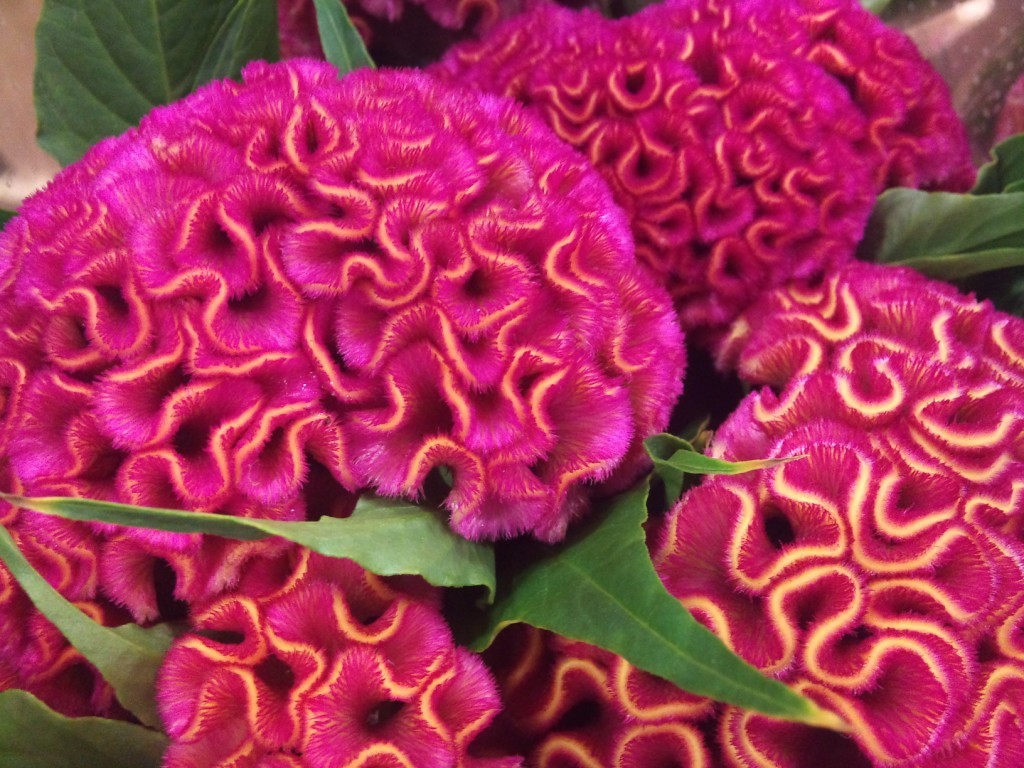 A veritable smorgasbord awaits in the Get-It-While-You-Can aisles. Gladiolus byzantium from the Scillies (Pratley); fluffy love in a mist; campanula; sweet peas at £3-£5; cirsium (that's fancy thistle to you and me); speckled foxgloves (EH Hart); clematis and soapwort (SR Allen).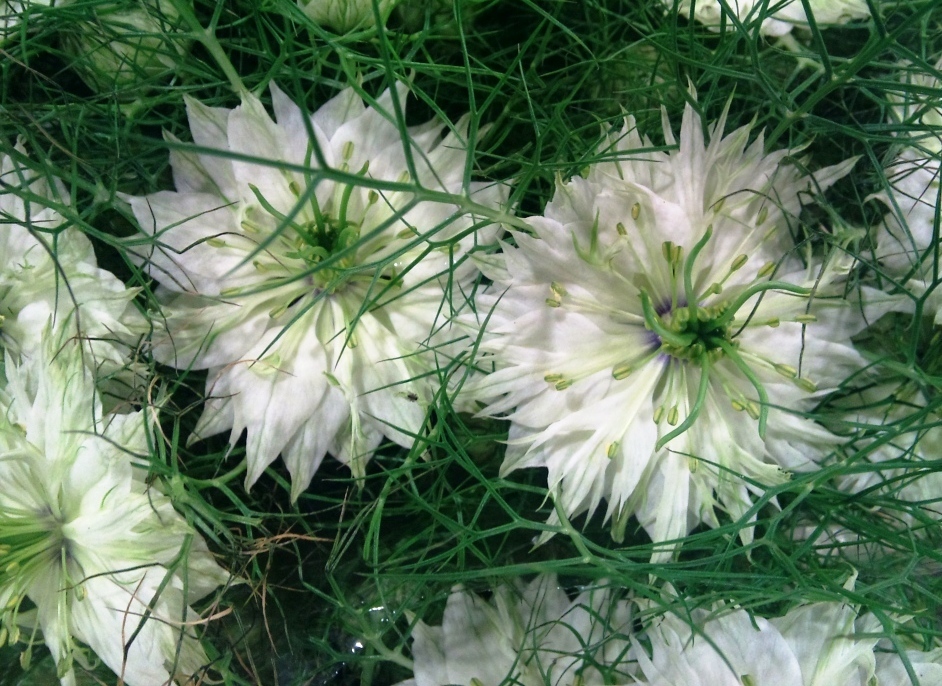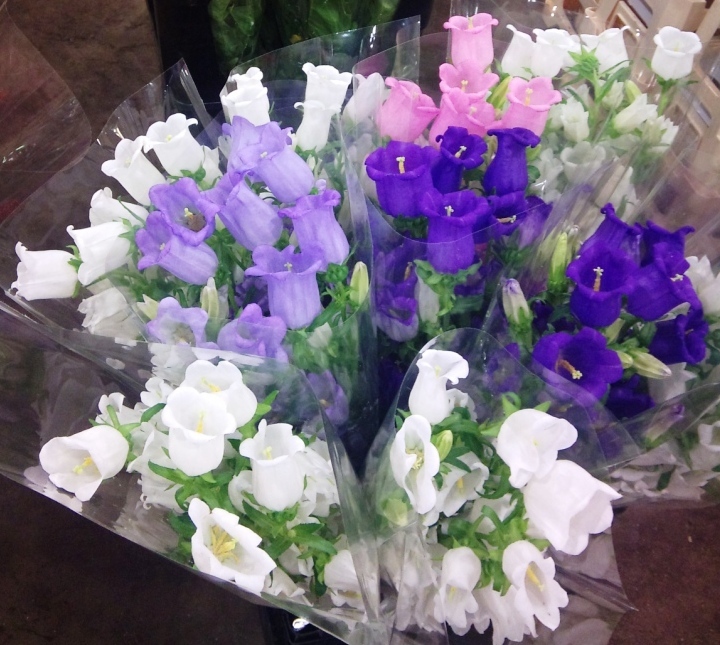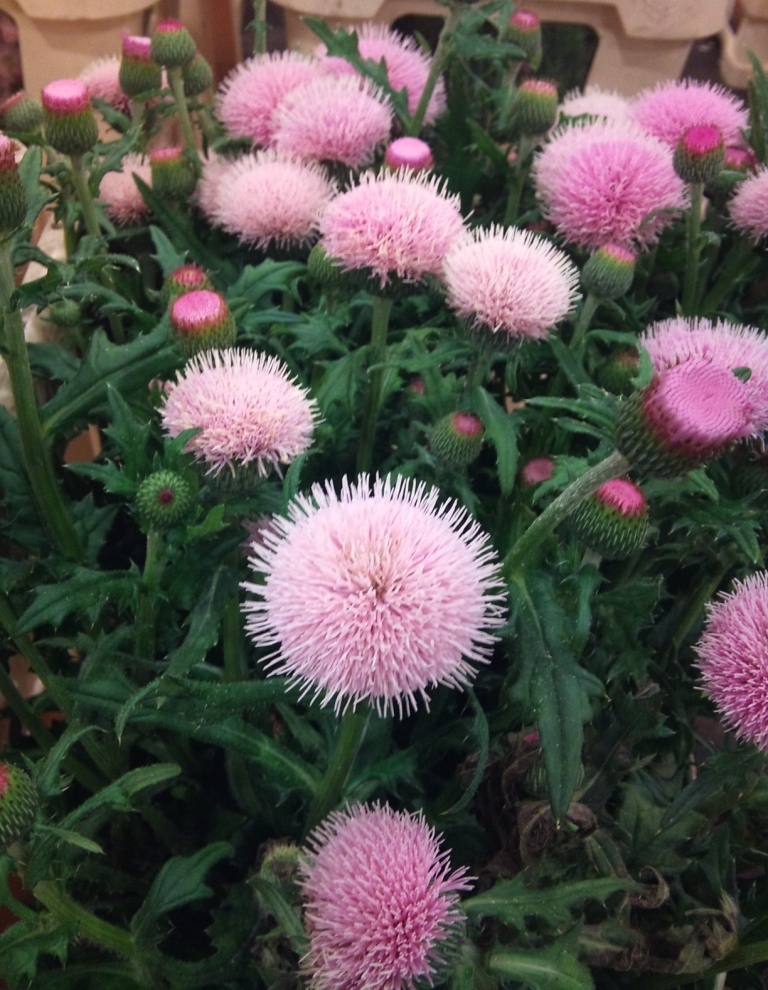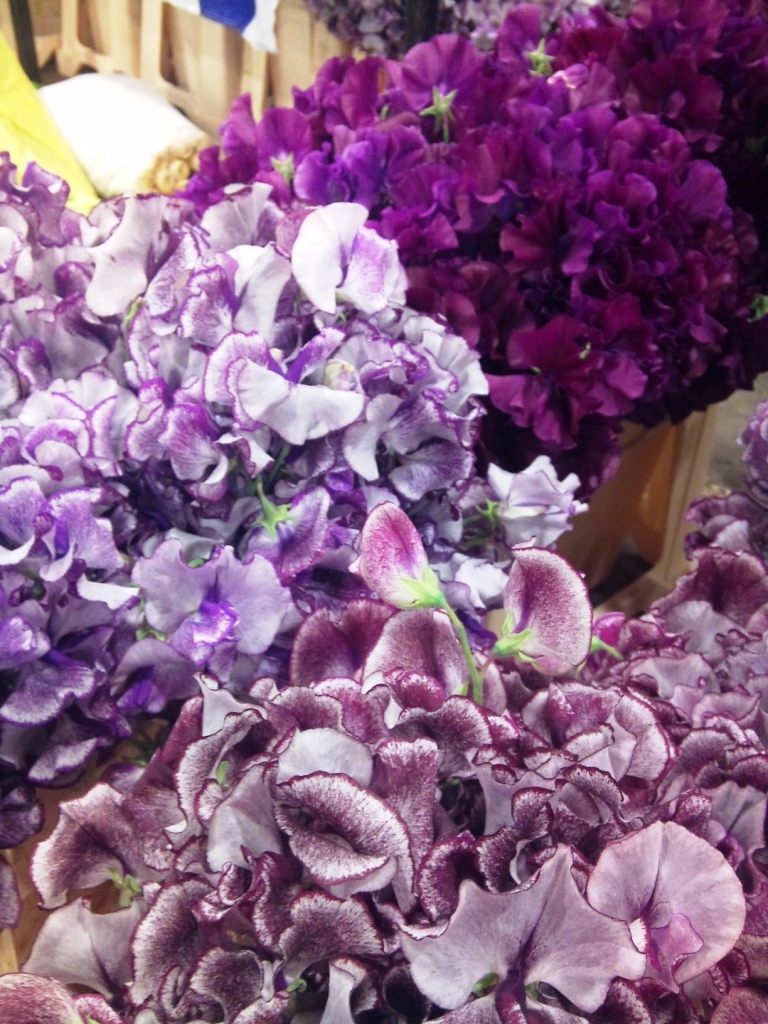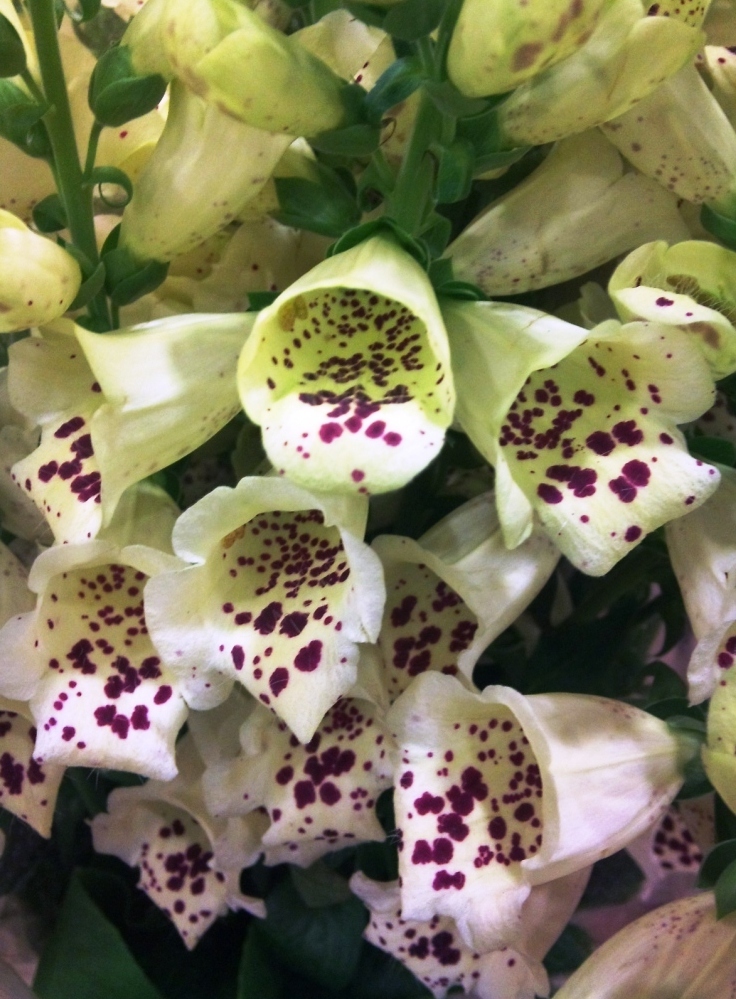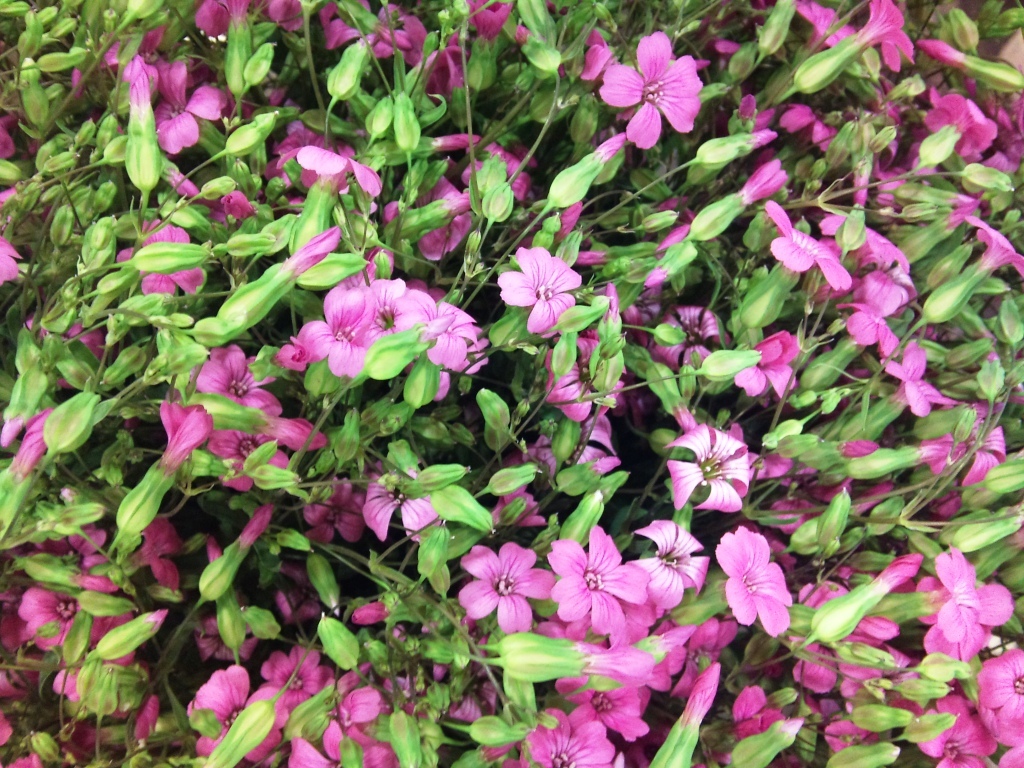 Scabious are emerging from their burrows after a winter sleep; I saw one lonely wrap at 7am - so if you want it, get up early. Jonathan at EH Hart says early supply is a tentative, but full stream by mid-month.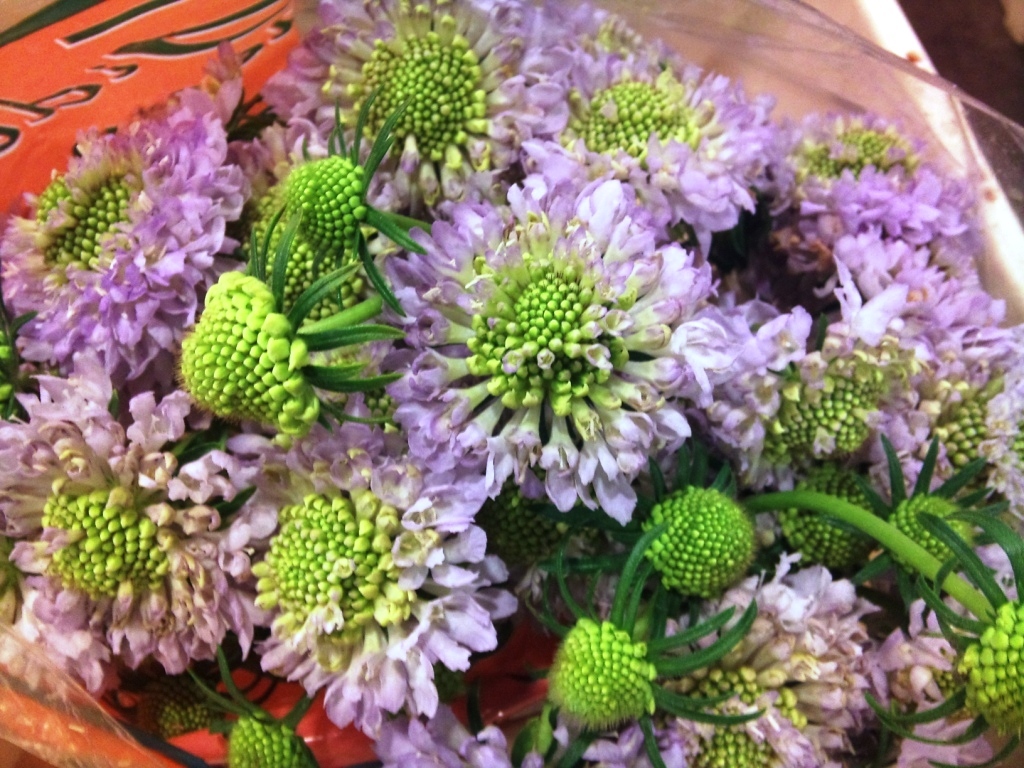 Here's a juicy combo at SR Allen – phlox in that vivid pinky-red of 1950s lipsticks, next to flaming dahlia. Ooh! If I wore an outfit like that, children would point at me in the supermarket – so how do flowers get away with it?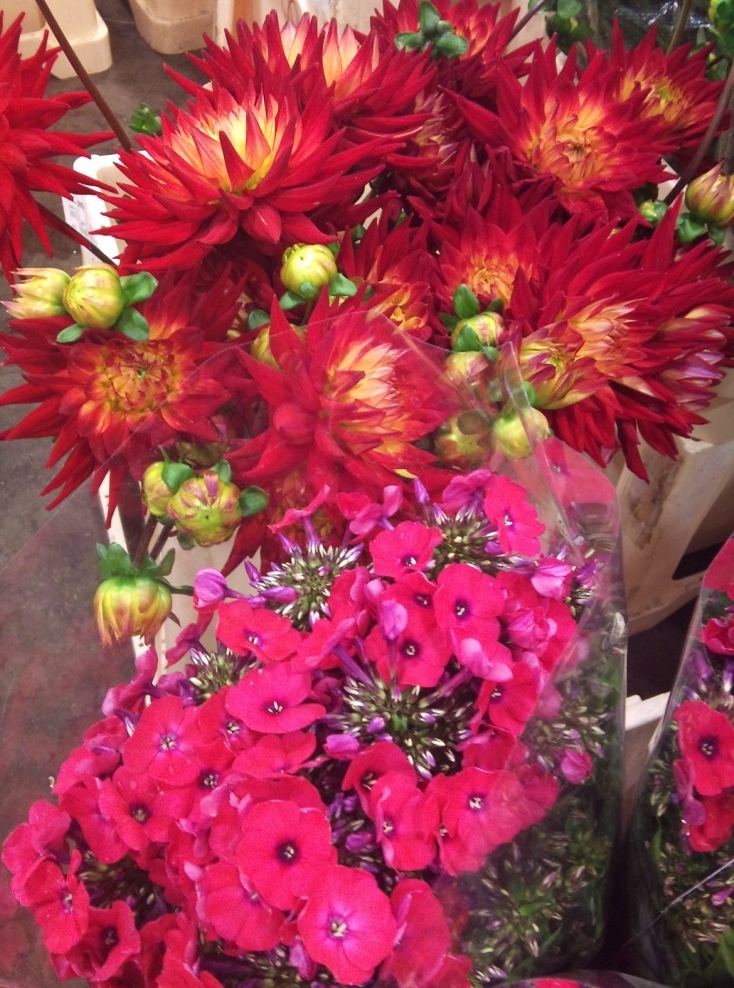 More sophisticated is a little corner Porters put together – drumstick scabious, dark-leaved foliages, artichoke. Now that's a classy outfit you could wear anywhere.
GB Foliage is getting in the red-white-and-blue swing of Jubilympics with their impressive flag display (well done Dave's wife); even their foliage bins coordinate. Nice work guys!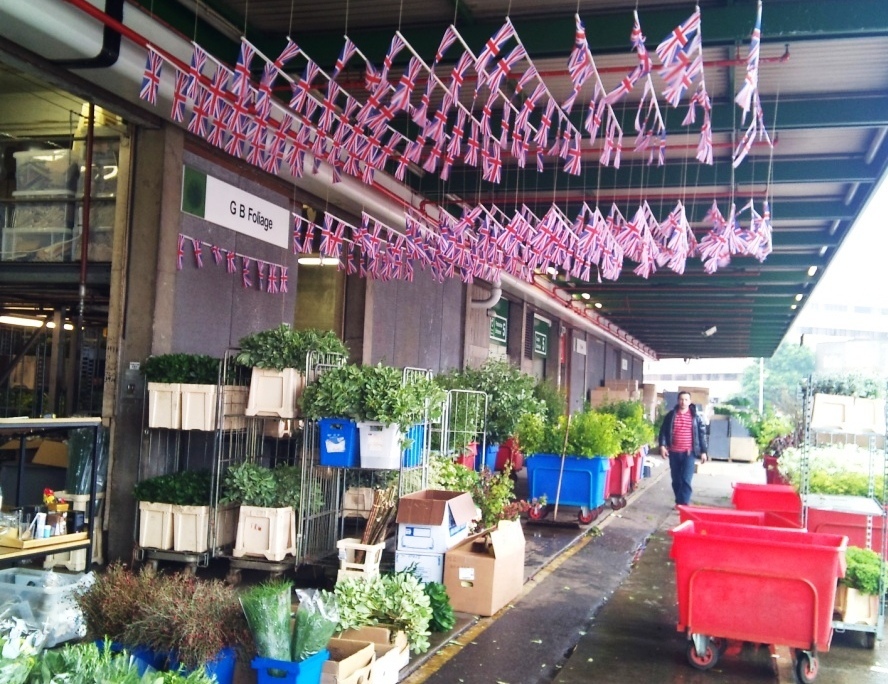 Porters has flowering purple weigela and rhododendron to boost your bouquets; GB tempts with trad English lacecap hydrangea, jumbo dill and and cow parsley.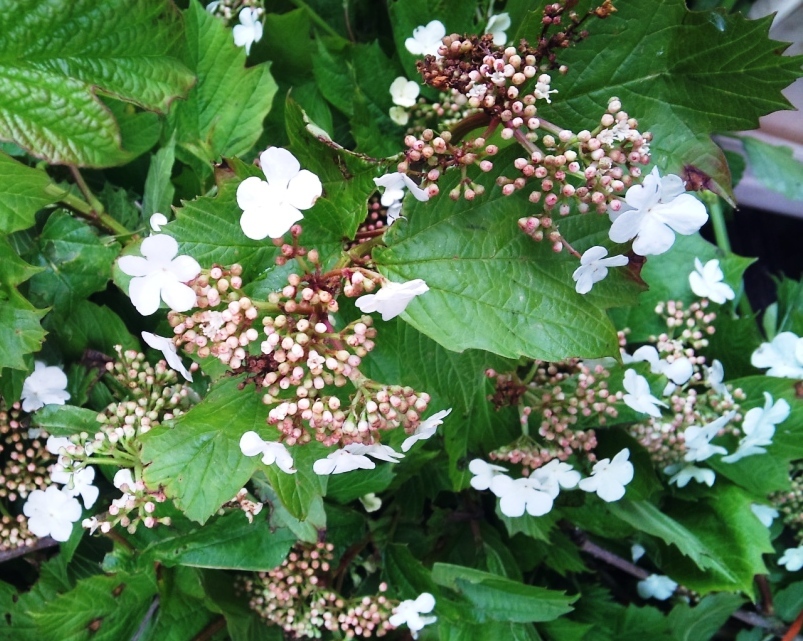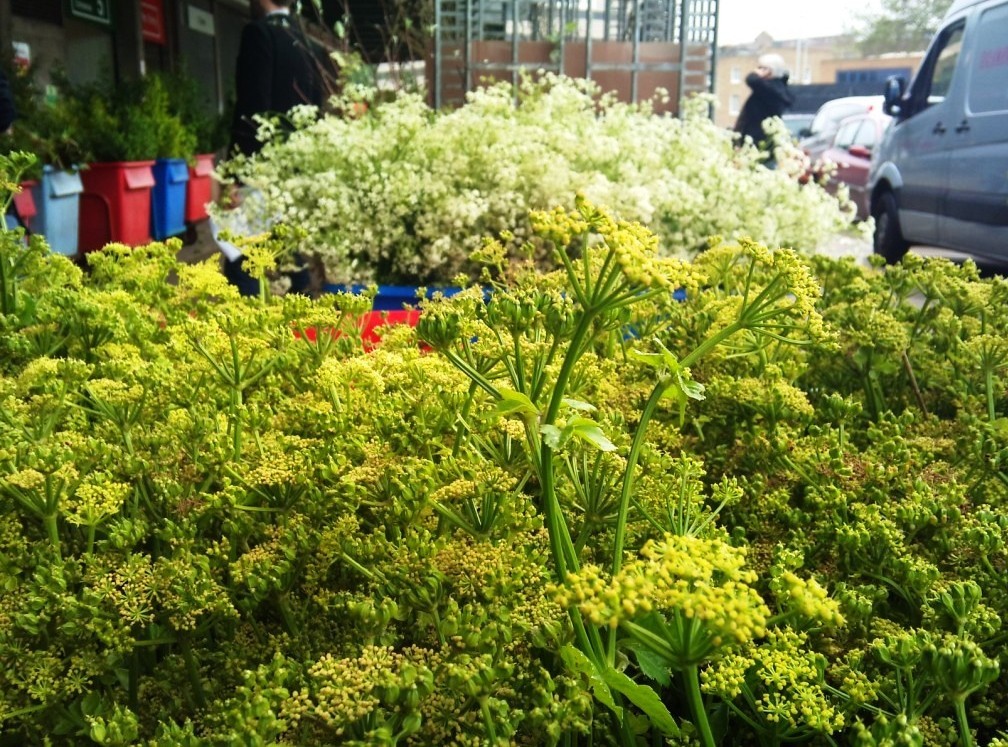 Two interesting leafy newbies at Quality Plants – boronia, like heather that's made an effort; and glossy-leafed climberRhyncospermum jasminoides. Flowers like jasmine, but fragrance like fine tea. Lemon tree blossoms are sweet-smelling, like those on the standard-trained kumquats at Arnott.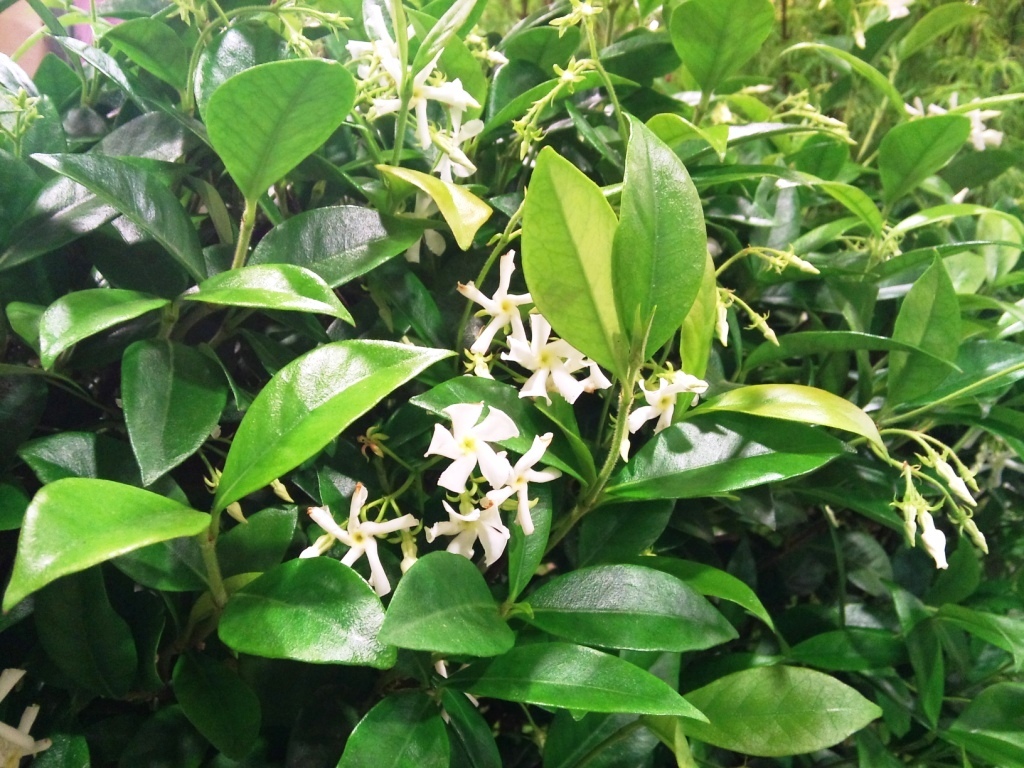 Bedding season is peaking. There's trays of flowering plants everywhere (just ask these chaps at Arnott); or Quality Plants can do you ready-planted baskets. They've also got the biggest lavender I've ever clapped eyes on - chest-high on me.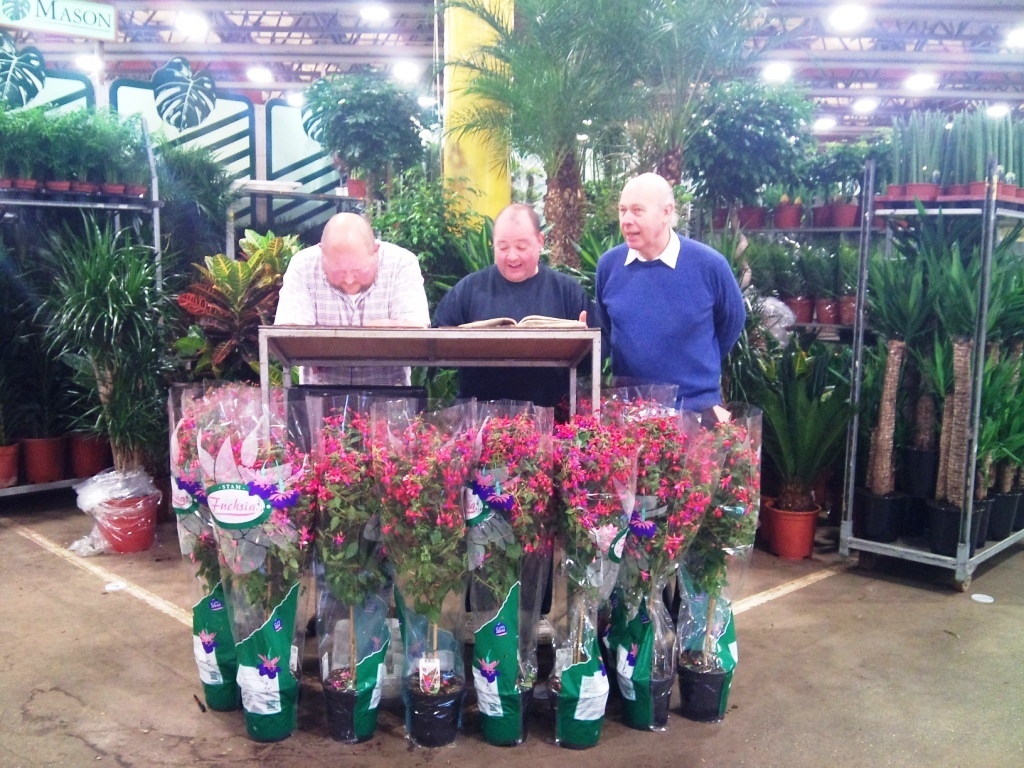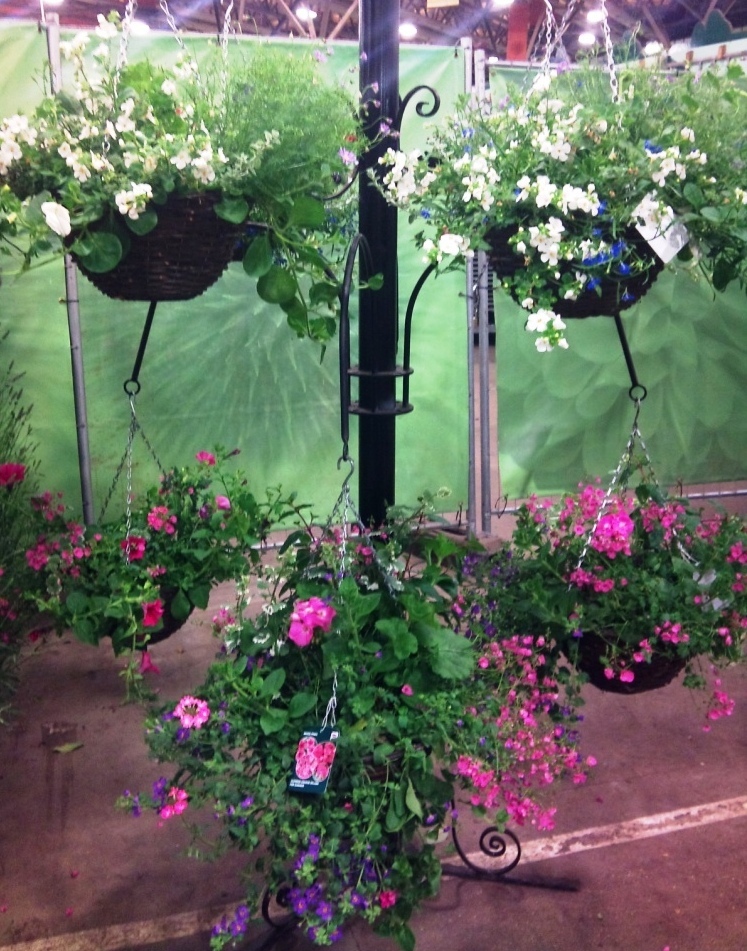 Impressive displays of peony and hydrangea on John Austin's stand; wrapped in their paper cones they look like giant ice creams ready to lick. Sassen's "Spray Peach Avalanche" rose, on Alagar, boasts flowers big as standard roses. Supersize Dutch hydrangea too, 40cm across, in the Glowing Alps series. My favourite? "Magical Emerald": pure white with pink eyes, like an albino rabbit. With green ears.
For your grow-your-own customers (that's everyone, right? Heck, even the local inner-city school has broad beans and lettuce in the playground) there are abundant edibles – beans, peas, strawberries, herbs, and tasty cherry toms. Which reminds me – time for breakfast. Which way's the café?