Tulips, ranunculus and anemones are adding wonderful splashes of colour to every corner of New Covent Garden Flower Market this month!
Just take a look at this stunning double variety of pink tulip called Mama Mia at Bloomfield. Isn't it fabulous? Read on to discover what else you'll see when you visit in January…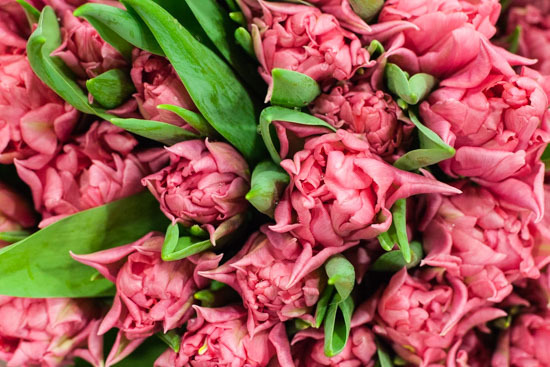 British Flowers
At Pratley, British tulips (Tulipa) have started to appear. They come in boxes of assorted colours from Spalding in Lincolnshire.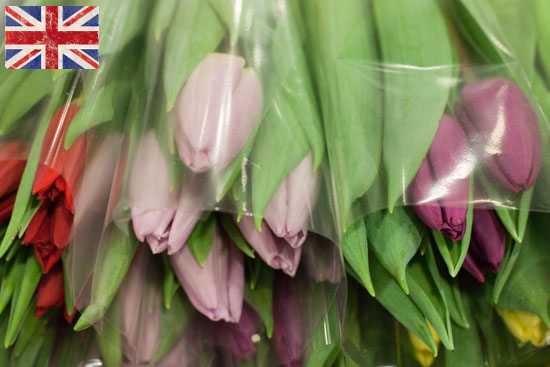 World Flowers
Have you seen this white and hot pink single tulip called Caramba before?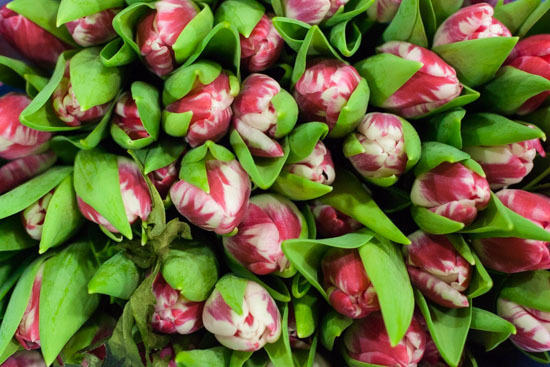 At D G Wholesale Flowers, they have these beautiful Super Parrot tulips, which have feathery white petals with green markings.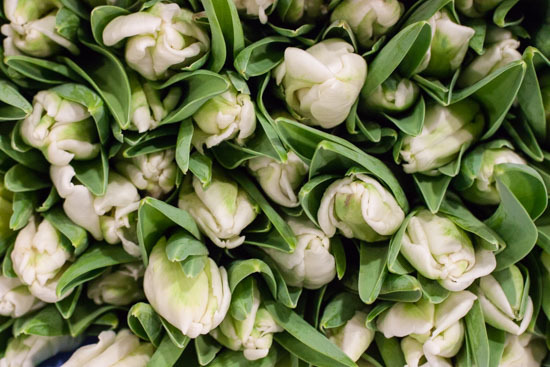 Whilst over at Zest Flowers, there are elegant long-stemmed apricot French tulips.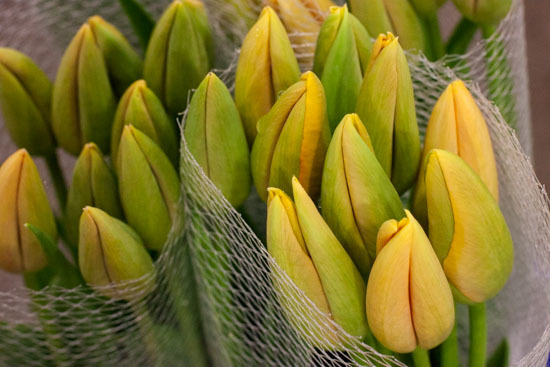 Whether it's single, double, parrot or French varieties of tulips that you're looking for, you'll find plenty of choice at Nine Elms. If you've not seen it before, you may like to read my Product Profile Report about this popular spring flower, which I wrote last year.
Only available for a limited season, so make sure that you make the very most of them whilst they're here, are Cloni ranunculus with their large flower heads. At Dennis Edwards Flowers, they have this cream variety called Commedia…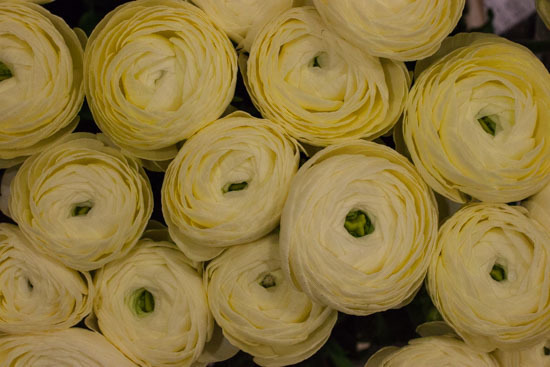 …plus this cheery orange one called Mandarino Cloni.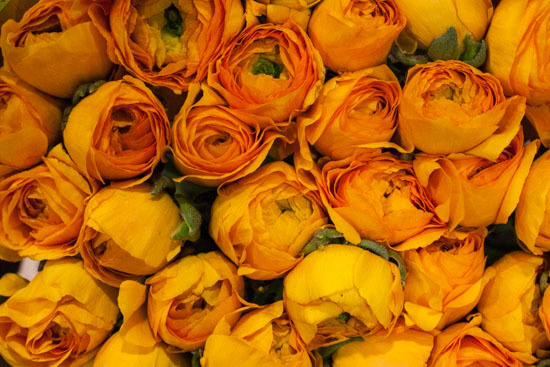 And of course, at this time of year, there's a plentiful supply of standard ranunculus, like this pink variety at Bloomfield.  Perfect for a spring hand-tied bouquet. Especially to celebrate the arrival of a new baby girl!
Do you remember French Fancies? Described by Mr Kipling as 'dainty sponge fancies with a delicious vanilla topping, drenched in soft fondant icing'. Well, it'll be easy now to remember the name of this pretty variety of hyacinth (Hyacinthus orientalis). It's called 'Fondant'!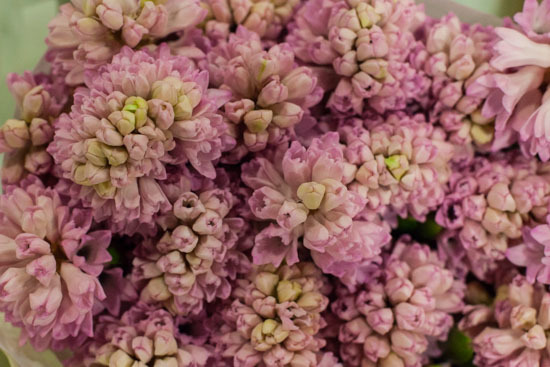 Isn't the colour of these 'Galilee Blue' anemones (Anemone coronaria) just incredible! Such a zingy shade of bluey-purple…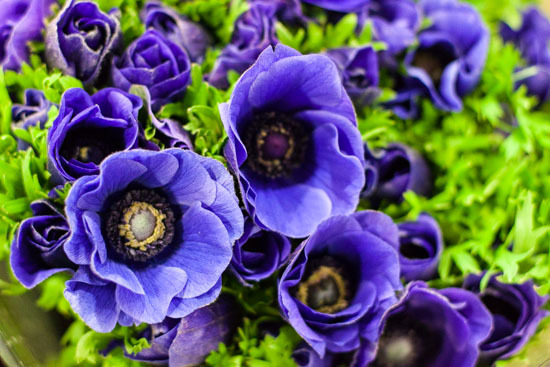 And I couldn't quite believe it when I clapped my eyes on these charming forget-me-nots (Myosotis), which have just come in at Bloomfield.

Fresh lime green is always one of those colours that encapsulates the feeling of spring for me. And no more so that when you see this hue in the form of guelder rose (Viburnum opulus 'Roseum') at D G Wholesale Flowers.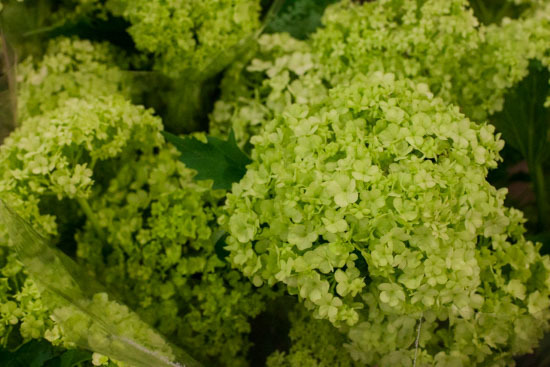 If it's an exquisite, heady scent you're on the look-out for to add a certain something special to floral designs, then tuberose is just the ticket!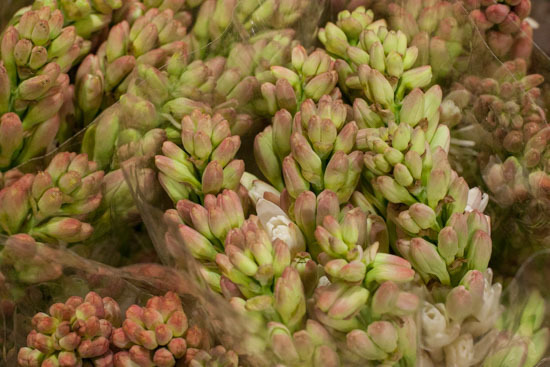 I have a bit of a big soft spot for astrantia and spotted this lovely variety called Billion Stars at S Robert Allen.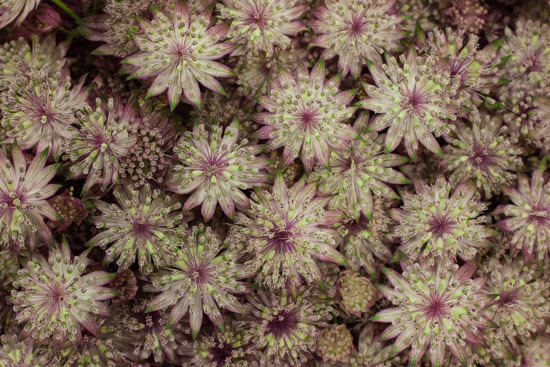 Aren't these spray roses lovely? With dark velvety red petals and ripples of pale pink and white, they're called Flash Night and can be found at Alagar.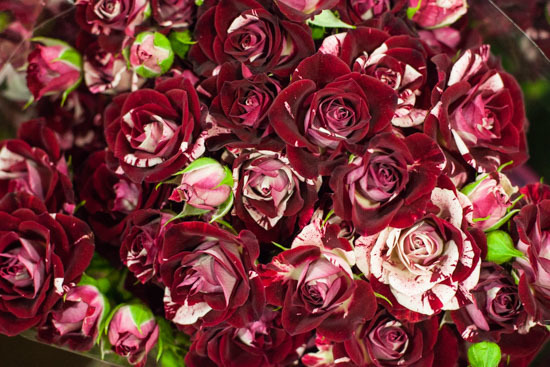 There's the filler, Cestrum 'Red Zohar' at Dennis Edwards Flowers…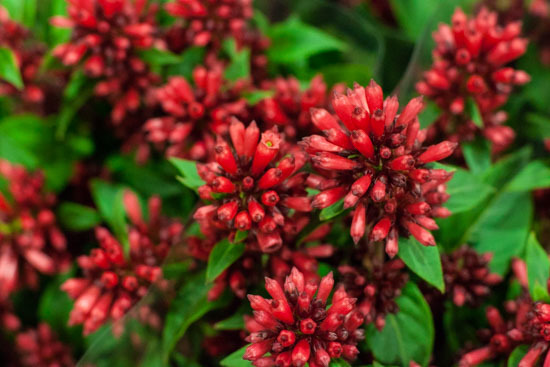 …where they also have these super roses, simply labelled as Orange Romantic.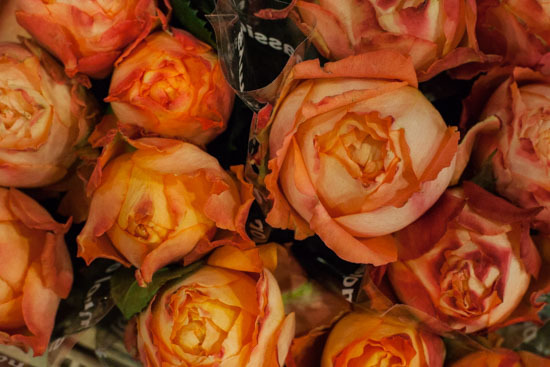 Staying with the same colour palette, there's orange chincherinchee (Ornithogalum), or chinch for short, at Alagar.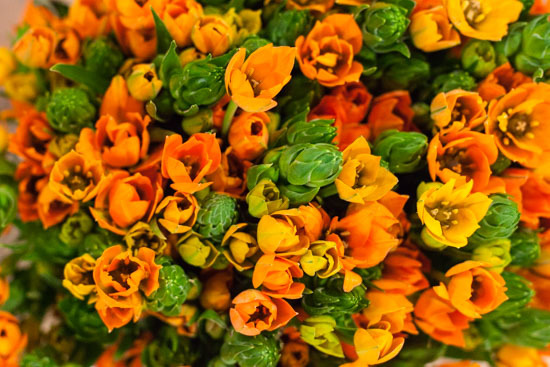 Now for something very special and so 'on trend' at the moment are Icelandic poppies (Papaver nudicaule). Admittedly, when they're in bud, as in the photo, it's hard to imagine that they can blossom into such breath-taking blooms…but they certainly do! Here's a link to the beautiful wedding blog, Magnolia Rouge, where you can see a photo shoot featuring these gorgeous flowers.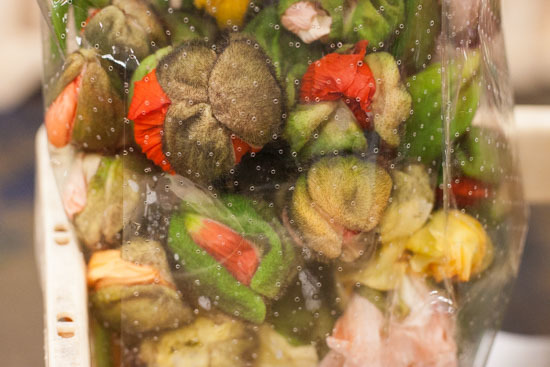 World Plants

There's 'bulb mania' amongst the plant wholesalers at the Market this month, with  hyacinths…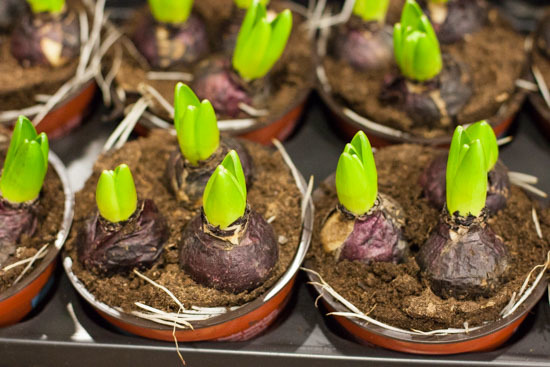 …and muscari aplenty at Evergreen Exterior Services.
For a more exotic look though, how about these ornamental citrus plants at Arnott & Mason?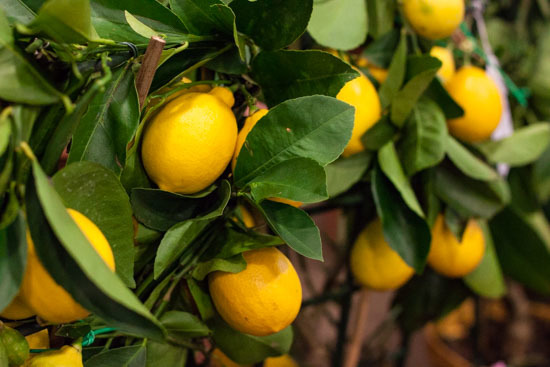 Or to add a real pop of colour to window boxes, this Skimmia japonica 'Rubella' at Quality Plants would be ideal.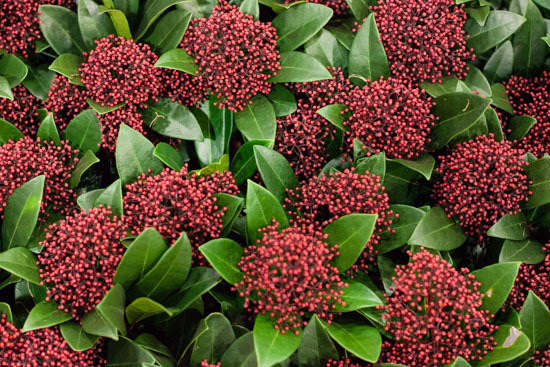 British Foliage 
Branches full of hazel catkins, which look like little lamb's tails, are available at GB Foliage…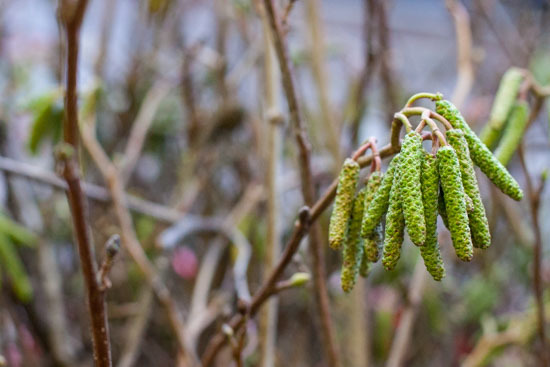 …as are Alder catkins.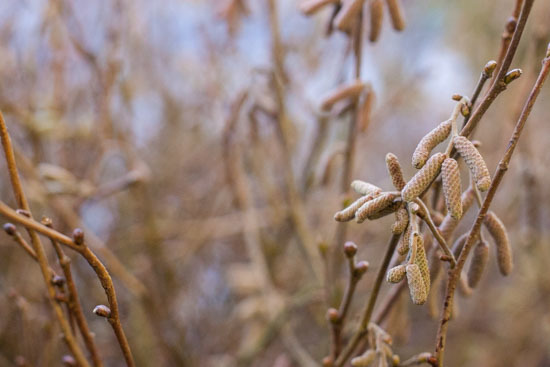 And over at Porters Foliage, there's plenty of pussy willow, which is perfect to use as a support for bulbs growing in plant pots.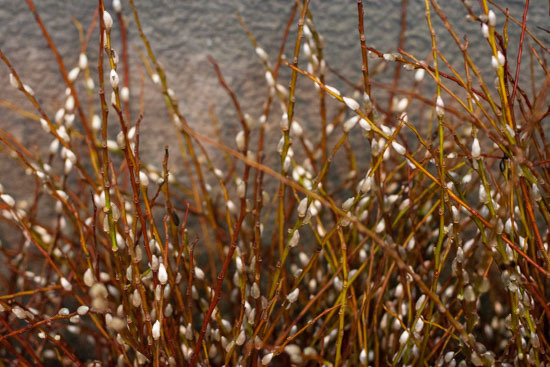 In addition to red and green dogwood, they also have this striking orange variety.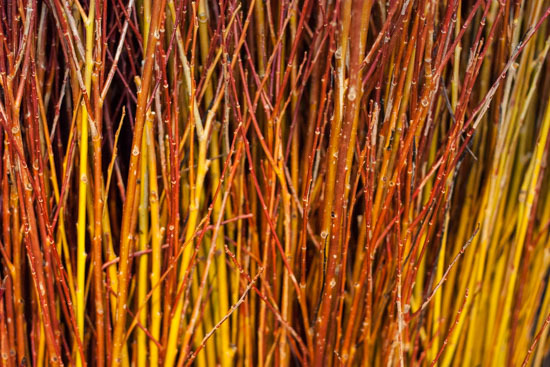 Sundries
Looking to add colour to designs for events and weddings in the coming months? Then how about these Crystal Pearls at Donovan Supplies. They're water storing gel beads and they're available in a range of colours. You can either layer the different shades or mix them together to give a multi-coloured effect.
Thinking of buying some new vases for 2015 contracts? Well, at The Flower Store, which is part of Bloomfield, they have a great selection available, in clear and amber glass.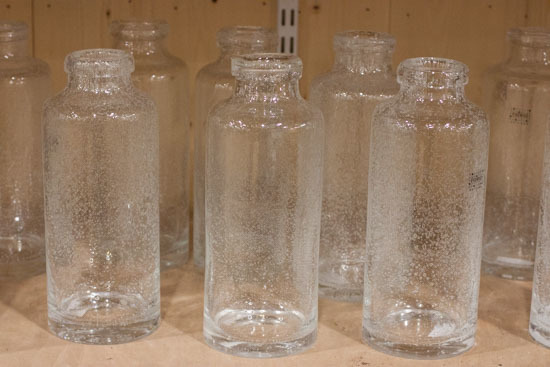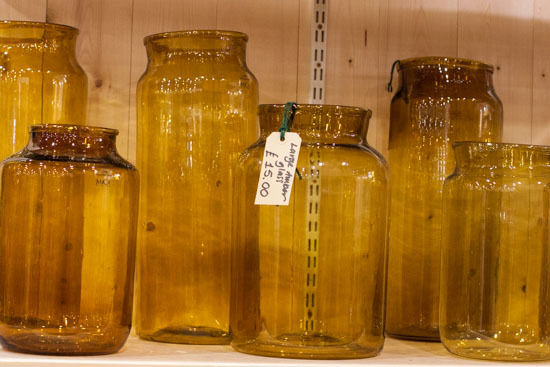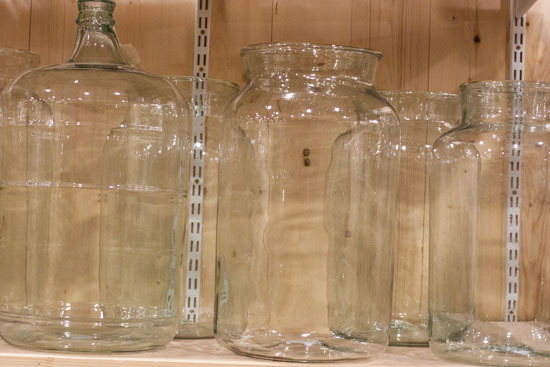 So, I hope you've enjoyed reading this month's report. If you've not visited New Covent Garden Flower Market recently, why not come and see us in January? There's an abundance of colourful and fragrant spring blooms, plus our British foliage selection is really second to none.  And as always, we'd love to hear from you. So, if you have any comments or questions, please simply fill in the boxes below.  
P.S. If you'd like to follow the Flower Market on social media, you can find us here: Twitter, Facebook, Instagram () and Pinterest.