"Love is the air, every sight and every sound…"
Well, that's what the radio was singing, while I browsed the John Austin stand. And I suppose there's no avoiding the topic of love this month… (No? Ok. Worth a try.)

Eric at Austin's says that his customers insist on 90cm "Grand Prix" for Valentine's Day, and have no truck with "lesser" varieties; Dean at Deanos has already pre-sold 10,000 "Freedom", as his customers are more price-conscious, and he carries "Red Naomi" as an alternative. Bloomfield, meanwhile, are rocking the scented garden-style roses. So there's rose horses for all kinds of romance courses at New Covent Garden.
DG Flowers has a new Ecuadorian variety they're trialling for the 14th, called "Red Paris" : the deep black-red of "Baccarat" with a larger head. It's a point of difference - why not give it a whirl?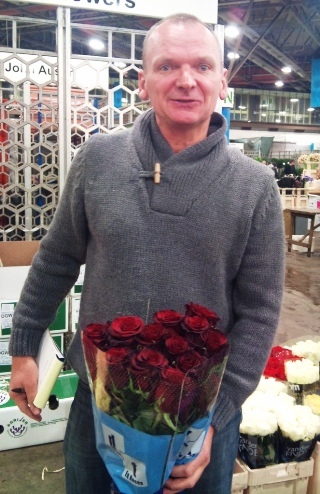 Incidentally, were you wondering (like me) what had happened to DG Flowers? They've moved! To a much bigger pitch, between Evergreen Plants and John Austin.
I'll be asking Cupid for a bunch of the so-cute stripy roses at Goodchild; though I think I'll be disappointed. The auction sells them as "pink spray rose" so I don't have a variety name to give you! It's Eye Spy brand, if that helps. Now, if you order "pink spray" off a price list, it's a lottery as to what you get; buy it in person at the market, and you've got a real prize.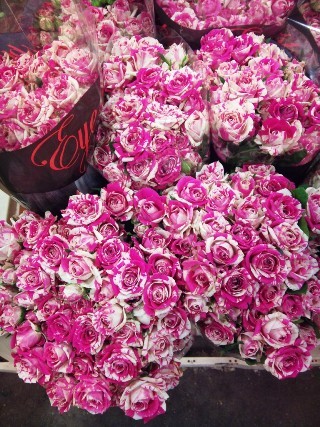 If you want respite from red rose romance – or you're a purely contracts 'n' events business with no need for emotional bouquets - there's lots of gorgeous spring goodies about. Chunky amaryllis. Cut cyclamen at Alagar - so frilly. Beautiful ice-fringed "Bell Song" tulips at John Austin. (Here, next to sumptuous fat pink "Flash Point". I ask you. Where do they come up with these names?)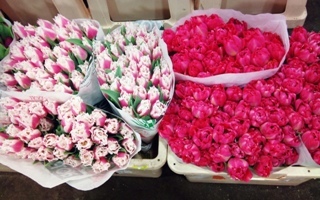 Iceland poppies at John Austin! Oh I get so excited when I see these. Deep breaths now. Plenty of Blue Bee delphiniums, lilacs white and purple, and veronica, if you're longing for May to get here.
Super-jumbo waxflower at SR Allen : Each flower bigger than your fingernail. (Unless you have freakishly large hands of course.) I'm so used to the dotty-spotty usual bunches that this one popped right out at me. SR Allen's are diving right into summer with clematis, solomon's seal, foxglove and two kinds of love-lies-bleeding (bobbly and smooth).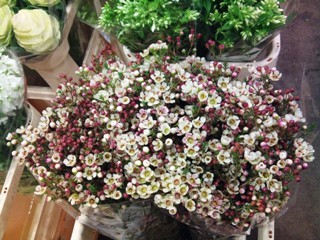 Evergreen and Arnott & Mason are chocka with citrus – single-trunk lemon trees, chest high; tiny citronellas in terracotta longtoms; glossy-leaved kumquats, dripping in fruits. (Is it just me or does kumquat sound like a really rude word to you?) Anyhoo, if you're longing for sunshine after the winter, they do bring a touch of Sorrento to South London.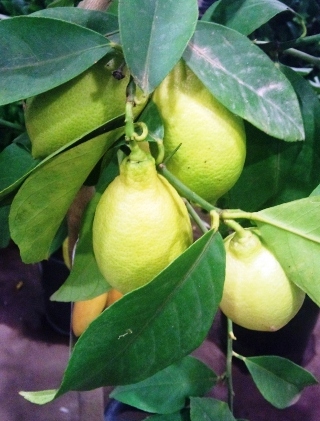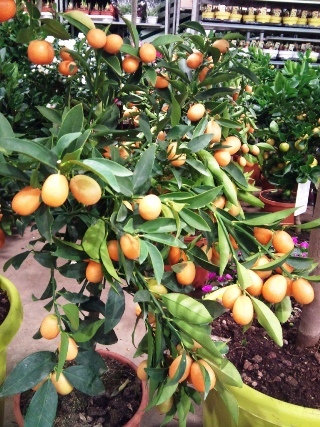 Leafy lollipop bays keep it green right through the year; they're almost compulsory in certain parts of London. There may even be a council regulation for premises : "must have box balls or bay trees either side of front door".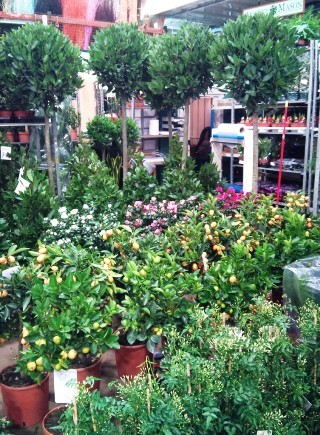 Fragrant genista (that's florist broom to you and me) is everywhere; both the unadulterated white form; and those Iced-Gem dyed ones. If you must. Abundant flowering eucalyptus at Porters, alongside pussy willows and hebe branches.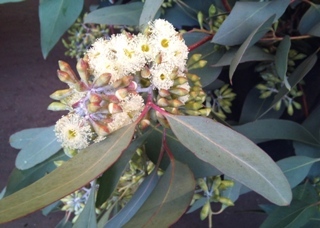 Finally, a real oddity spotted at Deano's. It fascinated everyone who passed. Not a rare undersea coral – but the flowering stems of the succulent houseplant Jatropha podagrica. If you want to order some – and at the introductory price of £3.50/10 why not? – Dean says just ask for "Firecracker". He'll know what you want.