Mention Euphorbia and what's the first image that comes to mind? The flower, foliage or plant? Well, we cover them all in our latest report!
Background
From the Euphorbiaceae family, Euphorbia was named after Euphorbus, a Greek physician. The plant is also known as Spurge and this common name is said to originate from the Old French espurge, which means to purge, as the sap was used as a purgative in years gone by. However, please bear in mind that nowadays Euphorbia is considered toxic.
The Euphorbia family is the fourth largest plant family with about 2,000 species. And you'll find it available at the flower market as a cut flower, foliage and plants.

Cut Flower
The cut flower, Euphorbia fulgens, commonly known as Scarlet Plume is native to Mexico. And the Latin name fulgens means 'shining, glistening'. It's a close relative of the Poinsettia plant.
Euphorbia fulgens is a shrub with slender arching stems which bear small, dense clusters of dainty flowers and slim, pointed leaves. Orange, like Queen of Orange above, and white varieties tend to be the most popular. But you'll also find it in red, cream, yellow, and salmon pink.
Euphorbia season has recently begun at New Covent Garden Market and as a cut flower, it's usually available until January, coming in wraps of 10 stems.
Foliage
At our foliage wholesalers during the summer months, you'll find container loads brimming with British grown acid green Euphorbia foliage.
Plant
Whilst over at our plant traders, look out for several different types of Euphorbia species. Some of the succulent varieties are often mistaken as cacti, due to their uncanny resemblance. If you're unsure, bear in mind that on Euphorbia plants the spikes and thorns grow directly out of the green body of the plant, whilst on cacti they grow out of the areolae, the raised parts on the green body.
N.B. The milky white latex sap which comes from a Euphorbia stem when it's cut can be an irritant. So, handle with care and wash your hands frequently. If you have sensitive skin, then it may be a good idea to wear gloves when conditioning and cutting.
Types

CUT FLOWERS

Euphorbia fulgens Kuttlers Samtrot
Euphorbia fulgens Sunstream
Euphorbia fulgens Pink Baron
Euphorbia fulgens Quicksilver
You'll find many more varieties of Euphorbia plants available at Nine Elms from our plant wholesalers including Quality Plants, Arnott & Mason and Evergreen Exterior Services. For example, from the latter supplier, available to order are Euphorbia mellifera, Euphorbia amygdaloides Purpurea, Euphorbia amygdaloides var. robbiae and Euphorbia characias subsp. wulfenii.
And let's not forget festive Euphorbia pulcherrima! If you'd like to read more about Poinsettias, take a read of this special report.
Design Inspiration

The long arching stems of Euphorbia fulgens create beautiful movement in arrangements. And using them as accents in designs can add a touch of elegance, whether you're creating a vase, pedestal, mantelpiece, hand-tied or urn design. And Euphorbia foliage looks wonderful in a country style arrangement, as demonstrated by Shane Connolly during British Flowers Week 2013.
Here are some examples of beautiful floral creations featuring Euphorbia.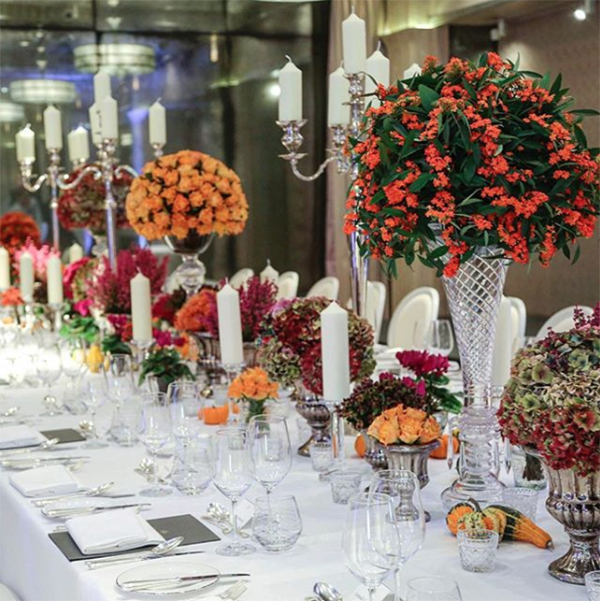 (Source: McQueens)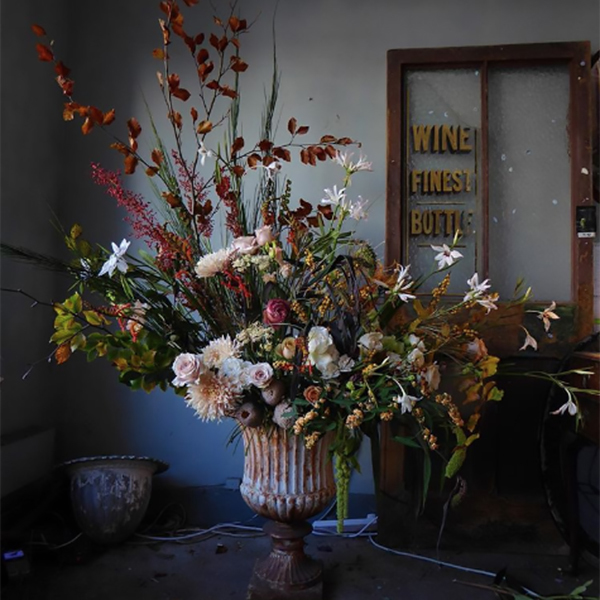 (Source: That Flower Shop)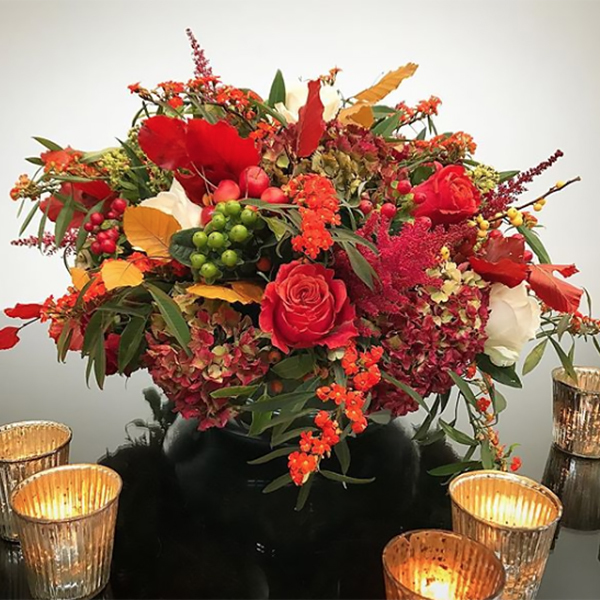 (Source: Mary Jane Vaughan)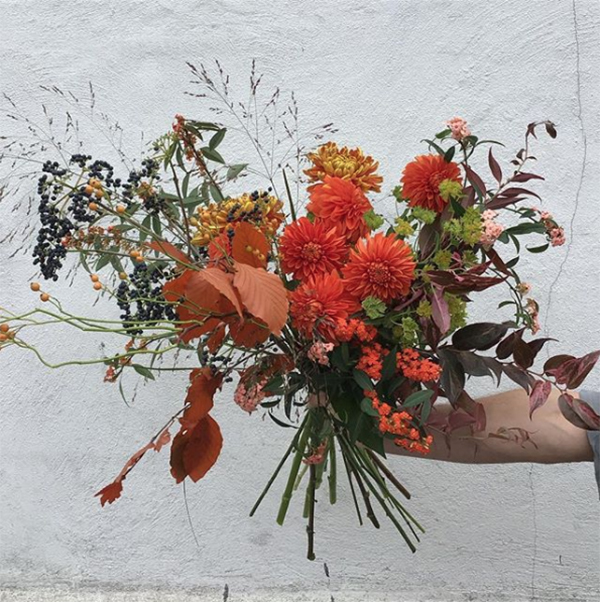 (Source: Urban Flower Co)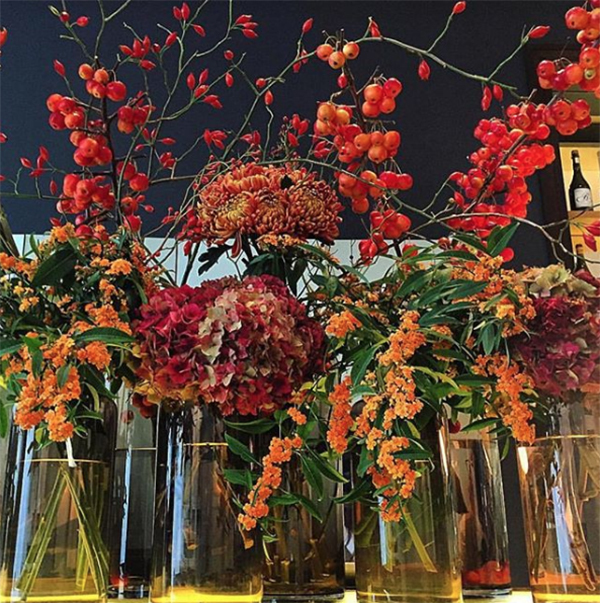 (Source: McQueens)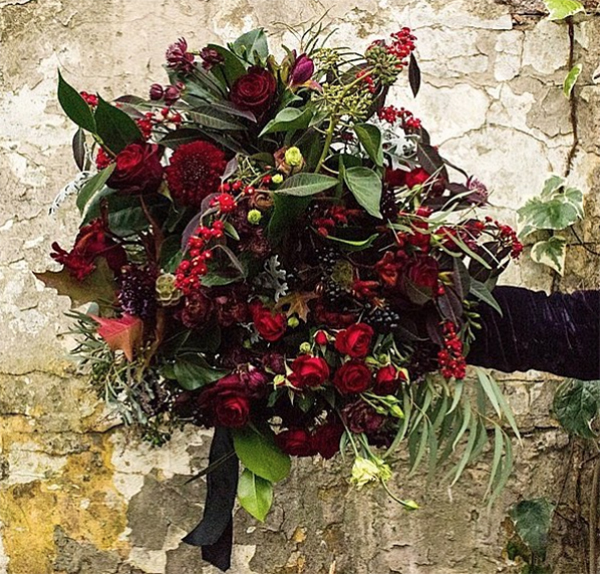 (Source: Rebel Rebel)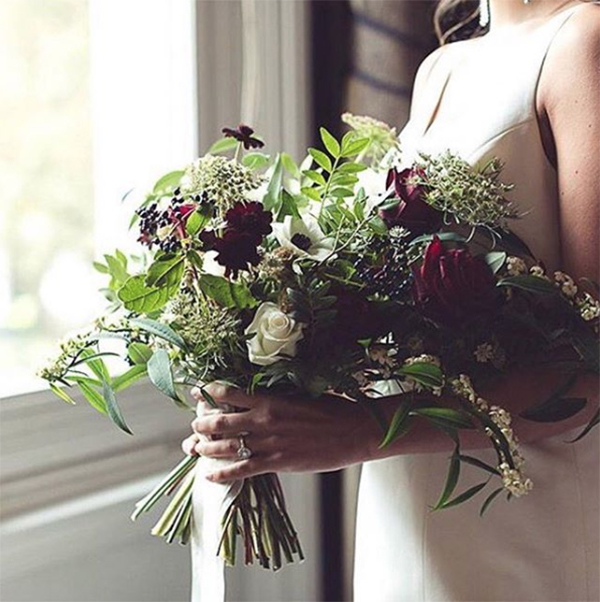 (Source: Blue Sky Flowers)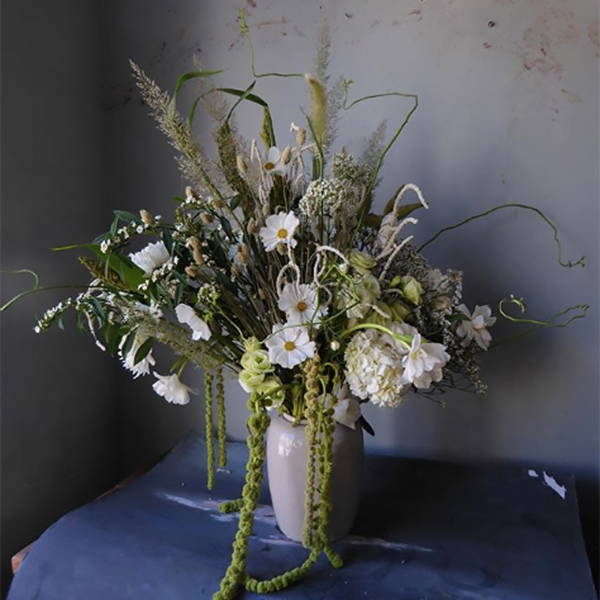 (Source: That Flower Shop)
We'd love to see photos of arrangements that you've made using Euphorbia from the Flower Market. Simply send an email to hello@cgma.co.uk, stating your company name and website address. Or if you prefer, you could post your photo on Instagram or Twitter and tag us with @MarketFlowers. We'll then upload your photos into this section.
I hope you've enjoyed reading this month's florist's guide. Please do ask away below if you have any questions or would like to make any general comments. As always, we'd love to hear from you...